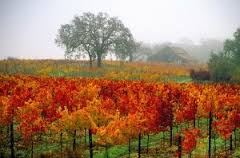 Autumn is here and for most of us, that means shifting from the lighter summer rosés, whites and BBQ Reds into something that matches with heartier food or sitting by the fire on a chilly fall evening.  At every party though there is someone who says they only drink white wine.  Sometimes he or she means sweet, but often dry wines work too.  Just like red wines, however, there are white wines that work great for the autumn season too.  
My summer whites usually include grapes like Sauvignon Blanc, Pinot Grigio or even a bit less heralded grapes like Albarino or Muscat.  When the temps start to cool, I like to switch over to whites that have more body and I tend to serve them, not a refrigerator temperature, but at around 50 to 55 degrees (F).  Although I drink them all year round, in autumn, grapes like Gruner Veltline, Chenin Blanc and even Chardonnay start to get more play.  And of course, Riesling at any time, any place, anywhere.   
Here are sixty white wines in all price ranges from around the world that make very good to great autumn drinking.  I have separated them out by grape: 
Arneis - Vietti Roero Arneis – This is the white grape of the Piedmont in northern Italy.  It has great body to it with very nice minerality.  This one can come off with just a touch of sweetness which can make it popular on its own.  Around $25, this works well by the fire for those who won't drink a red wine, but want something with body that is interesting.  Drink it young.   
Bordeaux Blanc
Château Pape Clément Blanc – Another highly expensive white Bordeaux.  Fabulous.  Fantastic.  Get a rich friend to open one for you as it is truly special, especially with some age on it.  Around $125 but maybe worth splurging on and putting away in a cold cellar for a decade.  
Château Smith Haut Lafitte Blanc – White Bordeaux's work great all year but especially in cooler temps I think.  They can be more serious, less "refreshing wines".  This one is pricey but at the top level, at least it is affordable and not laughable in pricing.  About $80 per bottle, it will age beautifully in the cellar.   
Chardonnay
Maison Albert Bichot Chablis – White wines from Burgundy France are Chardonnays.  Chablis is at the northern tip of Burgundy.  It is a cool climate and one of the best places to find crisp and clean Chardonnays.  This is an affordable example of one that is fairly easy to find.  It has everything you want in Chablis.  Crisp.  Lots of minerals.  Nice green apple fruit.  And one quality not so easy to find.  It is affordable.  About $20. 
Arterberry Maresh Chardonnay Maresh Vineyard – An Oregon Chardonnay from an iconic old vineyard in the Willamette Valley.  Oregon makes some great Chardonnays in a middle of the road style.  This is a bit more old school.  It is rich and full bodied, but everything is elegant and in check.  Decidedly Oregon.  My favorite Oregon Chard.  About $70.  
Bouchard Père et Fils Corton-Charlemagne – From one of the larger producers in Burgundy, this is one of the great vineyards for white wines in the world.  Expect pay around $150 per bottle.  I am not sure at this point, it makes sense any longer unless that amount is not a big deal for your wine budget.  Still, it is a great wine that will age wonderfully.  
Jean-Marc Brocard Chablis 1er Cru Cuvée Minéral – a great value in the world of Chablis.  Crisp, food friendly, easy to find.  Around $30, this is great with food, especially shell fish.  
Cline Cellars Chardonnay – Not a typical California Chardonnay.  It presents more melons than citrus.  It also costs under $15.  Great for a party.  Drink this one young as I doubt it will age well.  Enjoyable and while not a great wine, it serves its purpose well.  
Sebastien Dampt Chablis Grand Cru Les Clos – Another wine from Fass Selections.  I was unaware of this producer until the last year or so and have been stocking up.  Really excellent wines at fair pricing.  Classic, vibrant Chablis.  Around $55.  
Dehlinger Chardonnay – This is a very traditional producer in California.  Worth signing up for the mailing list.  A bit of oak, a bit of fruit.  Quite food friendly.  Ages wonderfully in a good cellar.  Around $35.  
Joseph Drouhin / Drouhin-Vaudon Chablis 1er Cru Vaillons – Another affordable Chablis.  Crisp with green apples.  Depth.  Ages well.  Food friendly.  This seems to show a bit more oak on it, but not obtrusive.  
Domaine William Fèvre Chablis 1er Cru Vaillons – Of all the top producers in Chablis, this is the most affordable although the prices keep creeping up.  This wine is as good as it gets in affordable Chablis.  Crisp, green apples, some roundness.  Long finish.  Ages well.  Great with food or even on its own.  Around $45.  
Golan Heights Winery Chardonnay – Looking for an Israeli wine for the Jewish holidays.  This is easy to find in those markets that celebrate.  A very solid wine at a fair price.  Middle of the road in style.  Great in your Sukkah.  
Hamilton Russell Vineyards Chardonnay – This is from South Africa.  It comes across as a new world Chardonnay.  It is very good with plenty of structure; it handles the fruit and oak quite well.  Fairly priced at around $30, Cal Chard lovers will love it.  
Hyde De Villaine Chardonnay – One of my favorite oaky California Chardonnay.  While there is a heavy hand of vanilla on the wine, there is plenty of fruit and it has complexity and depth.  This is a wine that will develop a bit with age.  Around $60, this will get compliments.  Worth signing up for their mailing list.  
Louis Latour Corton-Charlemagne – Another great wine from a large white Burgundy producer from this Great vineyard.  The price is around $125 per bottle which is a shame as many people will never get to try this.  Again, it is very good but not life changing.  Only for those whose budget does not wince at this price (or people deciding what to bring to my home to share).  
Mount Eden Vineyards Chardonnay Santa Cruz Mountains – One of my favorite California Chardonnays.  This is crisp and energetic.  It's about the purity of fruit.  Great with food.  They used to age great but some recent wines have not aged as well as I might have thought.  Perhaps it was the vintage.  That's ok, drink them young.  Great with food.  I would avoid the 2011 vintage though, personally I found it wanting.  
Peay Vineyards Chardonnay Estate – Another California Chardonnay.  They seem to have backed off the oak regimen a bit and I would call it more middle of the road these days.  Much crisper than many Cal Chards, there is still a nice bite of fruit.  Its price is getting up there but certainly worth the money.  Another mailing list worth exploring.  
Peter Michael Chardonnay Belle Côte – Peter Michael is one of the premier Chardonnay producers in the world.  His wines are expensive but amazingly good.  They do have some oak on them, but even the most oakaphobic wine lover would have to admit it is well done.  Complex.  Ages well.  Long finish.  Plan on paying around $100 or more though.  
Rhys Chardonnay Alpine Vineyard – I have said it many times, this is my favorite chardonnay, period.  In style, it is crisp with minimal oak notes but yet deep and full bodied.  It demands bottle age but that is hard as it tastes so good young.  In tastings against the best of the best in the world, this is consistently at the top of my list.  I highly recommend signing up for the mailing list.  It is up to about $75 per bottle now.  
Rivers-Marie Chardonnay B. Thieriot Vineyard – The home winery for star winemaker Thomas Rivers Brown.   This is every bit as good as wines at two or three times the price and that is saying something as this costs around $50 itself.  This is another wine where the oak is present with a lot of vanilla notes but it is seamless with lots of fruit and great balance.  If you like California Cabs, Pinot or Chardonnay's, this is a list to be on.  
Shafer Chardonnay Red Shoulder Ranch – I admit to not being a huge fan of the big oaky California Chardonnays.  Every once in a while, however, they are perfect.  This is one of the better ones in that style.  Lots of fruit and vanilla.  Smooth with lots of body.  Your friends that like this style will be quite impressed.  Around $50, the last time I checked, it is probably not for the neighborhood cook-out.  
Cantina Terlano Chardonnay Terlano Kreuth – One of the best Chardonnays coming out of Italy.  Their basic Chard is good but the Kreuth is a few steps up.  Mineral driven but good fruit.  Great with food, but drinks well on its own.  Around $25.  
Wyncroft Chardonnay Avonlea Vineyard – This is a very good Chard.  A bit of oak, great intensity, and plenty of fruit.  Also, probably the best Michigan Chardonnay in your cellar.  Yes, Michigan.  From the southern shores of Lake Michigan, owner-winemaker James Lester makes some world class wines.  They might be hard to find, but if you see one or are in the area – worth buying.  
Chenin Blanc:
François Chidaine Montlouis-sur-Loire Clos du Breuil – A very nice Chenin Blanc form a community just down river from Vouvray in France.  This is one of the best producers of Chenin Blanc in the world.  Crisp, slightly sweet.  Great with food or on its own.  Delicious.  About $30.  
Foreau Domaine du Clos Naudin Vouvray Sec – One of the greatest Chenin Blancs in the world.  This is a dry version that has great citrus and lots of minerals.  They will age for a decade or more gaining in complexity.  Great with food but enough body to drink on their own.  About $30.  
Domaine Huet Vouvray Sec Le Haut-Lieu – If not Foreau, then Huet is the best producer in Vouvray.  This is a dry version but they also make semi-dry and sweet.  Minerals and citrus.  Cellars incredibly well.  Long finish.  Great with food or on its own.  Around $30.  
Château Moncontour Vouvray – This is an easy to find and inexpensive Chenin Blanc from France.  Great for parties.  Nice citrus fruit.  Good value.  Enough body to be enjoyed on its own.  
Sandlands Chenin Blanc Amador County – This is one of the hot up and coming wineries in California and I would recommend getting on their mailing list.  They make a few different Chenin Blancs and they are all good.  It doesn't really taste like a Vouvray, but then again it doesn't taste all that different as well.  A bit more body and it seems like a bit more oak on it.  Around $27.  
Fiano:
Mastroberardino Fiano di Avellino Radici – This is a wine from Campagna in southern Italy that uses the Fiano grape.  It is a beautiful wine that actually needs a couple of years to age.  Complex and deep.  Food enhances it but is not required.  About $25, this wine is world class.   
Gewürztraminer:
Corison Gewürztraminer Corazón – Another great California Gewurz.  Cathy Corison has been making wines in California for a long time.  This wine is deep with that great lychee fruit quality.  Nice minerals.  Good body.  It is dry.  Just lovely.  Around $30.  
Navarro Vineyards Gewürztraminer – Quite possibly the best Gewurztraminer made in the USA.  They have been doing it a long time.  Great nose, good body and excellent with or without food.  From California.  
Sleight of Hand The Magician – This is a Washington State take on Gewurztraminer.  The ancestral home of these is Alsace France.  As you might expect, this has a bit less depth and a bit more fruit.  That said it is easy drinking and reasonably priced.  Very cool label as well.  
Zind-Humbrecht Gewurztraminer Herrenweg de Turckheim – from one of my favorite producers in Alsace.  They make a range of wines at all price points.  Some are off dry, so ask your wine retailer about any particular designation and vintage.  They have great depth and age quite well.  Lovely wines but the aromatics on this may be my favorite of any wine, anywhere.  Wonderful.   
Gruner Veltiner:
Sineann Gruner Veltliner – Let's start the list off with a controversial one.  Many don't feel a decent Gruner can be made outside Austria.  Ten years ago this grape rose to prominence with hipsters and Sommeliers who loved it for its food friendliness, cool sounding name and the fact that others had not heard of it.  This one is from the US Northwest and it bears only a bit of resemblance to its Austrian cousins.  Still, it has great minerality and a wonderful oily texture.  Works for sipping and great with food.  It's delicious and costs around $20.  And it still has a cool name.  
Schloss Gobelsburg Grüner Veltliner – Here is a reasonably priced Austrian version of the grape.  More mineral driven but still has the great body and acidity to drink on its own or with food.  There are many better but not for this price (under $20).  
Nigl Grüner Veltliner Kremser Freiheit – Another great GV from Austria.  This one is text book from one of the great producers.  This is on his lower end at about $25.  Great with food.  Ages well.  Perfect for fall.   
Melon de Bourgogne:
Nicolas Idiart Melon de Bourgogne Muscadet Sevre et Maine – Muscadets are one of the great values in the wine world.  Maybe the best.  This is an up and coming producer who makes a very interesting Muscadet.  This has nice tart acidity with good minerality.  A bit more upfront than many.  Good body and works great with food.  
Domaine de la Pépière (Marc Ollivier) Muscadet de Sèvre-et-Maine Sur Lie Vieilles Vignes Clos des Briords – My choice for the best value in wine.  Year in, year out.  Around $16, this is world class.  Think sea air and sea shells.  Having a clam bake?  Perfect.  It can last I a good cellar for a decade.  At that price, invite all the neighbors.  They will ask you all about it.  
Luneau-Papin / Domaine Pierre de la Grange Muscadet de Sèvre-et-Maine Vieilles Vignes Sur Lie Clos des Allées - Another great Muscadet producer.  Minerals, salinity and sea shells.  Great for clam bakes.  All for under $20.   
Rhone Blends:
Bedrock Wine Co. Heritage Wine Compagni Portis – This is a blend of white grapes from one of the great young producers in California.  This is a big wine with lots of fruit but also nice depth.  It will age nicely for five to ten years.  Great with food.  About $25.  If you are not on the Bedrock mailing list, you should be.  
Chester's Anvil Gretna Green Stagecoach Vineyard – This is collaboration from Lagier-Meredith and Pott Wines.  This is my favorite wine in their stable.  Honestly, a wine that works all year round.  Crisp with nice minerals.  A texture that handles the cooler temperatures.  This is a mailing list to be on for interesting wines.  Around $30.  
Clos des Papes Châteauneuf-du-Pape Blanc – One of my favorite white Chateauneuf du Pape's.  It is not cheap at about $60, but this is a great wine.  Slightly waxy with lemons and some tropical fruit notes.  Lots of minerals.  This is a big bodied wine that will improve for a few years in the cellar.  That said, I prefer this one young and let the complexity come from the blend.  
Denner Theresa – Another Rhone blend from Paso Robles.  It seems every year this gets better and better.  Is it the vineyards or winemaking?  Probably both.  Waxy with great fruit.  Delicious on its own.  Works well with food.  Perfect around the fire pit with friends.  $35. 
Donelan Vénus – This is a Rhone blend from California.  Great depth and texture.  Big bodied wine.  At around $45, it is not inexpensive but really excellent on its own or with food.  Another list worth being on.  
Epoch Estate Wines White Wine – Another California Rhone blend white wine.  Around $40, this is a bit pricey but it is very good.  This is a list to get on, especially for their reds.  The White is a very nice wine that will make very good sipping around the fire.  
Alain Jaume & Fils Côtes du Rhône Blanc Reserve Grand Veneur – For around $15, this is a fantastic value.  Great with food or as a sipper.  Lemons, waxy with a bit of warmth.  Nice acidity.  Good finish.  Much better in the better vintages, so right now look for the 2015!  
J.L. Chave Sélection St. Joseph Céleste – Want a great suggestion for a restaurant?  Chave St. Joseph (red or white) is one of my go to picks.  They are easily found, relatively inexpensive and great wines.  But, a bring some home as well.  This a delicious wine vintage to vintage.  Great lemon and other citrus.  Good minerals.  About $30.  
Domaine Jean-Louis Chave Hermitage Blanc – I debated putting this on the list.  It is crazy expensive at around $225 but this is one of the best white wines in the world.  It really demands ten years in a cellar to justify the price.  Give it time to develop complexity and depth.  Just a gorgeous wine.  
Keplinger Eldorado – Another California Rhone blend.  It has a high percentage of viognier but unlike many California Viogniers, this retains its floral qualities.  Still, there is a lot of body here.  Deep and complex.  Great texture.  It is a bit pricey at $60.  
Tablas Creek Esprit de Beaucastel Blanc – A Rhone blend but from Paso Robles California.  This is a waxy, lemony wine that is big and warm.  Drink it young or old, but it does shut down for a time.  One of the better wine clubs but this wine is widely available at retail.  Around $35.  
Turley The White Coat – From one of the premium producers of red Zinfandel.  This is a big wine that is a blend.  It has a waxy lemony quality that is perfect on a cool fall evening.  Works with food too.  A bit pricey at $40 but very good.   
Ribolla Gialla :
Cowan Cellars Ribolla Gialla – Jim Cowan is making some really interesting wines in California using some interesting grapes.  I prefer his whites but the reds are worth exploring.  Sign up for his mailing list as the wines are not that well distributed.  This is a take on the Italian grape and he ferments with the skins on as a few iconic producers in Italy do.  Drink it a bit warm.  Risotto is a great food pairing (especially with some cinnamon in it).  Around $25.  
Movia Ribolla Gialla – From Slovenia, just across the border from Italy.  Actually the vineyards are in both countries.  This is a crisp wine with plenty of body.  Food friendly.  Better with some food, but it can be nibbles around the fire.  Around $30, it may take some hunting to find, but its doable.   
Riesling:
Dönnhoff Riesling trocken – Donnhoff is my favorite producer of German Riesling.  They produce sweet and dry ones and all are great.  This is the base level of the Dry version.  For around $16, this is a great value.  If you can find the 2015 vintage, grab a case and drink over the next decade.  Lots of minerals, some grapefruit.  Always a hit.  
Weingut Keller Riesling Trocken 'S' – Keller is a great producer of German wines.  I tasted this one as it was an offering from Fass Selections.  Think of that as a mailing list for European wines.  Lyle Fass is an importer and direct seller thru e-mails.  Any wine lover should be getting his daily e-mail blasts.  This is a dry Riesling at the lower end of Keller's price range (about $30).  Great minerality.  Perfect with food or on a crisp autumn afternoon.  
Schlossgut Diel Dorsheimer Riesling Trocken – Trocken indicates dry in German wines.  This is a great dry Riesling.  It has depth and complexity.  Lots of minerals.  Some fruit.  Very fruit friendly but great on its own as well.  About $25.  
Weingut Hirsch Riesling Zöbing – There has to be some Rieslings on the list.  This one is from Austria.  Dry as a bone.  Great minerality.  Perfect with or without food.  Great wine to serve those who are convinced they don't like Riesling as it is too sweet.  About $25.  
Hermann J. Wiemer Riesling Dry – From the Finger Lakes region in New York.  This may be the best winery in the Finger Lakes.  Dry, great balance, enough fruit and plenty of minerals.  Depth and complexity.  Great with food or sitting with friends.  About $25.   
Viognier:
Michael-David Vineyards Viognier Incognito – One of the great value producers in the wine world.  All of their wines seem to be very good to great and excellent values.  This take on Viognier is no exception.  Clearly from California with ripeness and higher alcohol levels.  Normally, I would not put a Viognier on this list, but with the higher alcohol and extra body, it is slightly warming and not in a bad way.  Under $20.  
This list could not possibly all encompassing.  It is meant to give some suggestions.  I would love to hear yours as well.  Have a great Autumn!