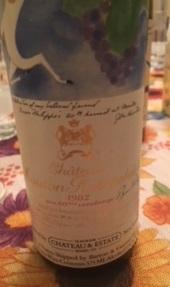 Lots to say about this wine, but first, why it was opened.  My friend Chris is about to retire.  Way back in 1986 or so, Chris was convinced to spend $30 for a 375ml bottle of this wine.  Since that time, he has waited for the right special occasion to open the bottle.  Luckily for me (since I din't meet Chris until around 2010), this bottle is known to maturing at a glacial pace.  He has moved all around the world waiting for the right time and place.  My wife and I had dinner at Chris's home before he leaves town and goes to spend his retirement in Cape Cod.  Chris opened the wine.  What do you say when someone opens a bottle with you that has that kind of history.  Thank you, of course, but it is such an honor and a humbling experience.  Definitely a "we are not worthy" moment.  Then, the bottle itself.  This is one of the great Bordeaux wines of all time.  I have been lucky enough to have this but never a bottle remotely approaching maturity or its 100 point status (back when that was a rare score).  This history of Bordeaux, the vintage, this bottling, our friendship, and Chris's last 32 years all wrapped up in one 375ml bottle.  How could it possibly live up to that?  It did.  
The bottle was stood up and carefully poured out without decanting.  We savored it (while also drinking other wines) with dinner for a couple of hours.  Ruby in color, purple at the core.  The nose is initially musty. The blew off leaving a dusty leather with slight cassis.  With more air, saddle leather, and plenty of cassis.  Finally, the cassis takes center stage, some cigar tobacco, a bit of dust and some earthiness comes out.  That was just the nose.  On the palate, this has a good acidity.  Medium tannins at first that get stronger and tighter.  The wine shuts down and then reopens a number of times.  Layers of cassis and earth ad even a floral quality at this age.  Long finish.  And it went with fruit.  Generally small size bottles mature faster, but even at 375, this bottle is on the younger side of maturity.  A full sized bottle is still probably a decade away.  That said, if you are going to open a bottle, I would suggest that you just drink it over 12 hours rather than decant just to watch the spectacular show.  What a treat!
Given all that how could I possibly score this lower than 100.