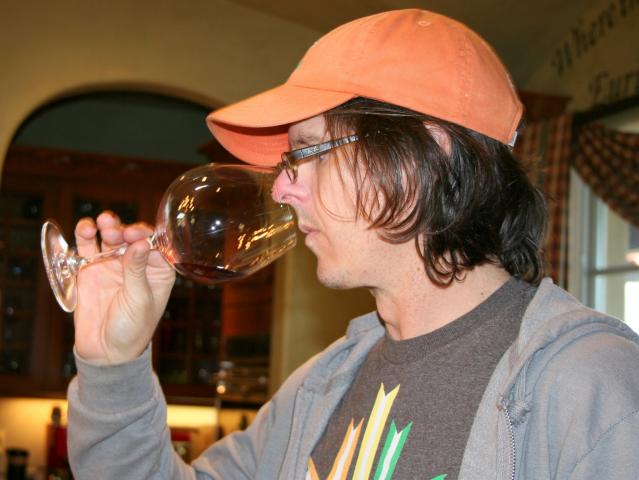 Wes Hagen assumed control of Clos Pepe Vineyards in Santa Barbara's Santa Rita Hills in 1998, though it was first planted in 1994. This former English teacher brings an analytical and thoughtful approach to winemaking, specifically Pinot Noir and Chardonnay. He received his viticultural and winemaking training from the University of California at Davis extension program. His small lot production and strict allocation program have helped earn him 90+ point scores from Wine Spectator, Robert Parker and Decanter Magazine.
What prompted you to pursue winemaking as a career? If not winemaking, would you still be teaching English?
I was teaching college in Minnesota and it was very cold. I got a call from California that my Mom and Steve Pepe had purchased a horse ranch near Lompoc. I came back for Christmas, fell in love with the place, and left Minnesota immediately for the Pinot Promised Land.
Avoiding the hyperbole, describe your winemaking philosophy.
Clean, balanced winemaking that shows place and vintage. Winemaking is pretty simple.  Keep it clean, keep the barrels topped, keep free so2 correct, and leave it alone. I try not to step into the winery more than once every week or so, so I don't just start messing with things to stay busy. No racking on Pinot Noir, one racking with Chardonnay and the Rhone blend I do for Axis Mundi. 
What specific wine varieties would you like to see the public embrace more fully?
Chenin Blanc, Tempranillo, Gruner Veltliner, and Riesling.
Much has been written and debated concerning the 100 point rating scale. Some say it has empowered consumers, others claim it has distorted wine prices, while still others say it has actually changed the quality of wines being produced. What do you see as being the long term impact of the 100 point rating system?
Wine scores are a tool. If your palate is sympathetic to that of the critic it's a great way to wade through the rivers of soulless wine and assure your money is well spent. And if your guests don't like it, you can tell them it got 90 points, and then they will feel foolish and go back to beer. Nothing has brought so many people to wine and driven more people away from wine than the 100 point scoring system popularized by Robert Parker. The tool allowed droves of new people to becomes wine geeks; Parker's scoring gave wine a legitimacy that only an American could appreciate. It attempted to define a wine 'objectively.' It gave the infantile, ignorant, drowning American palate a stave of French oak to keep ourselves afloat. Without a wine culture we are not taught to love wine as we grow up. And it gave Americans a new way to talk about wine: with references to other fruits, foods, spices, flowers, sometimes even barnyard! While it was a renaissance in American wine production - having someone with an educated palate ruling over the roost - it also began winemaker's attempts to produce wine to appeal to a single human being on the planet earth.
But even worse, this idea of being able to instantly pick out 12 references in the aromas of a wine, or to be able to say, 'It's a 93 in my book,' all these things really scared a lot of Americans away from wine. While wine tells us to say YES it has a reputation for being difficult, complicated and mysterious. A real wine culture develops when the wine press becomes sublimated to the will of a synchronistic, educated American palate. We know what we like to drink and we drink it. Cheap wine, yes! Good wine, yes!  Expensive wine, yes! Bad wine, well...yes, just a few sips so I learn something. Snobs don't own wine, we do! Was it Parker's fault that he was so popular and successful? Is he at fault for the rise of snobbery, or did he temper it back with charismatic wine geekiness? Bob's as much at fault for the proliferation of high ripeness wines as Disney is for poorly bred Dalmatians. 
So even though he's the Reagan to my Trotsky, the Black Sabbath to my Charlie Hunter, I give the man a massive amount of credit for what he's done for wine worldwide, and especially the sun-soaked hills of California. Parker loves Neil Young too, so he has that going for him as well.
You've said that Pinot Noir can make the greatest variety of styles of wine. Elaborate on how specifically Pinot can best other varieties with its diversity.
Delicate Champagne. Nice dry or off dry rose. Light Pinot, medium bodied, heavy bodied. From bubbles to a rich red wine - no other grape offers so many choices, yet also shows bad choices more than any other grape.
As one of the early planted vineyard sites in the Santa Rita Hills, you chose here. What distinguishes this region for Pinot Noir and Chardonnay from better known California regions in Northern California?
Our east-west valleys and a maritime influence stronger than any other coastal throat on the Pacific Coast. Sub-2000 degree day growing seasons means immensely long hang times, and the poor sandy soil creates tiny vines, tiny growth, tiny clusters, tiny berries, and thicker skins due to the calcium content of the seabed soils/diatoms. The wines tend to be very dark, masculine and brooding - black berry fruits. While Russian River often gives a cherry-cola flavor, and Santa Maria is pretty and feminine, the Santa Rita Hills tends to make rich, dark and earthy wines that age well if alcohol is kept in check.
Are there any grape varieties that you would like to work with, and haven't yet, and why those varieties?
I will make Chenin Blanc and Riesling under my Axis Mundi label in the next decade. Mourvedre interests me too, maybe try to find some to blend into the Grenache/Syrah Axis Mundi. I'm also fascinated by Malvasia Bianca but I'll likely just buy the Palmina, because I doubt I could do better.
Aside from your own wines, who would you most like to sit down and talk with over a bottle of wine, and which wine?
I'll assume this is open ended, so I'm going to say Joseph Campbell, Christopher Hitchens, James Gordon Frazer and Jesus Christ over an old bottle of Trapet Chappelle-Chambertin 1972. Jesus said he'd bring the white truffles and some cognac.
You are immersed in the minutia of grape growing and wine making and can speak at length about any number of topics associated with wine. How important is it that the average consumer truly understands the complexities involved in the entire wine process?
Not at all. Does a child need a Masters Degree in Film to understand Finding Nemo? The future of wine education is to strike a balance between demystifying and re-mystifying the history and subject of wine. We start by teaching people to trust their own palates and really dig in and have fun with wine. 
Clos Pepe operates off a strict allocation system and has no tasting room. How has this approach helped you in the advancement of the public awareness of your wines?
Saying no to the right people is as important in this business as saying yes to the right folks. Scarcity and passion are the currency of the elite wine brands. A wine brand becomes a bona fide wine culture when the reputation, the hospitality and the quality come together to provide an experience that is available nowhere else in the world. This is my intention—to continue developing Clos Pepe as a culture as well as a brand.
I will also invite IntoWine readers to come and visit. Two weeks advance notice, always at 10:30 am here at the vineyard.