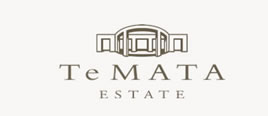 Established in 1896, Te Mata Estate remains family owned, producing internationally recognized wines exclusively from its Hawkes Bay vineyards.  Under the direction of John Buck, Te Mata Estate has, over nearly thirty years, produced a stunning array of red and white wines. Te Mata Estate has also developed a unique single vineyard from which it produces its Woodthorpe wines.
IntoWine recently caught up with Te Mata Estate to discuss wine and thoughts on current trends in the wine industry.
What prompted you to pursue winemaking as a career? 
I was born into wine, grew up in it, and was exposed to too many wonderful wines at an impressionable age.  I've since been unable to consider any other career.
Describe your winemaking philosophy:
Philosophy is to grand a word.  We simply do everything we can to make great wine.
What are you most proud of so far in your winemaking experience?
Parker's Wine Advocate describing Te Mata Estate as the quality standard of a Bordeaux 2nd Growth.  Not bad progress for 25 years work.  And…  it still leaves a clear goal ahead of us.
Tell us about the people who influenced or mentored you as a winemaker? 
My father for sure, Paul Pontallier and his team at Ch Margaux when I worked there, the Symington's in Portugal, the Guigal's in the Rhone, and just so many of the amazing and supportive people in the fine wine trade that it's impossible to list them all. 
Tell us about your wines:
They are all estate grown; made and bottled by ourselves.  We control the quality from start to finish, setting our own standards.  It's the same team working the same vineyards year after year, increasing our understanding and ability to best express the qualities of Te Mata Estate.
What is next for Te Mata Estate?
More of the same… which means striving to better ourselves. 
When it comes to winemaking, what's one thing you know now that you wish you had known before you started? 
That list is endless but, the key decisions are in the vineyards because you live with the results for a looooong time.
A hot topic in wine circles is the "Parkerization" of wines. Some people claim his 100 point scoring system has been an enabling factor for consumers as they navigate the endless array of brands from which they can choose. Others claim his influence has negatively impacted wine quality as producers are increasingly crafting their wines to earn a high score from Parker at the expense of making the best wine they can with the fruit and resources they have available. Given this, what are your thoughts on Parker and the 100 point scoring system? 
Greatness polarizes opinion and attracts criticism.  Parker should be celebrated for popularizing wine, and highlighting the finest quality where he saw it.  He's introduced countless people to the joy of fine wine.  For me, that's the ultimate award for a wine critic. Once folk have got the bug, they'll go on themselves, finding their own way.  People are clever.
How have the points systems like Parker's impacted you as a winemaker/producer? 
Successive positive Parker reviews have introduced new people to Te Mata Estate wine, as well as confirming the beliefs of existing customers.  Their combined effect has been surprisingly significant and far-reaching.   Especially, they've opened minds, which is important when you're from a little known place like New Zealand.  But, of themselves, they're nothing without all the usual hard work that goes into making great wine, and getting it out around the world for people to enjoy. 
Rising wine alcohol levels are a hot topic these days in wine circles.  What are your thoughts on the subject? 
We're classicist's at Te Mata Estate.  The average alcohol level in our wines is 13%.  While different grapes and different sites around the world can express greatness at both higher and lower alcohol levels than that, generally I'm against higher alcohol levels as I find it dulls both the wine and, after a glass, my appreciation of it. 
Lastly, where can your wines be purchased? 
In 35 countries around the world and, in the USA, at Wall Street Journal Wine.