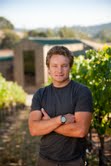 As the son of well-known New Zealand wine journalist Fintan du Fresne grew up with an appreciation for the wine industry. Originally from the southern end of New Zealand's North Island, he graduated from Victoria University with a degree in geology and set about exploring the relationship between geology and how it affects terroir in wines. He became winemaker at the historic Chamisal property (the first vineyard planted in the Edna Valley, located in San Luis Obispo County) in 2006, where the focus is on Pinot Noir and Chardonnay.
Describe your winemaking philosophy.
My philosophy is that there is no right way or wrong way to make wine. I've worked for enough different wineries in different parts of the world to have seen the same thing done in totally different ways. One winemaker will tell you "you can't do it that way" while another winemaker is having complete success doing it "that way." My job is not to make MY favorite wines or wines in the style that I like.  My job is to make wines that our consumers love. Too many winemakers are making wine for other winemakers. However, I do believe in the concept of Terroir. A vineyard is going to produce a certain style of wine and that is not something I can change. I can help steer it in a certain direction, but that is all I can do. If Mother Nature is a raging river, a wine is like a kayak on that river. All I can do is steer it through the rapids.
Much has been written and debated concerning the 100 point rating scale. Some say it has empowered consumers, others claim it has distorted wine prices, while still others say it has actually changed the quality of wines being produced. What do you see as being the long term impact of the 100 point rating system?
Well, the 100 point system is really a 25 point system, as it's essentially impossible to score under 75 points. I think the 100 point scale is a bit ridiculous because, despite the fact that you have 100 points to grade with, there is a massive difference between an 89 point and a 90 point wine. However the problem is not with the rating scale or even the critics. The problem is the consumer not trusting their own judgment enough. The US is still a young wine market and I think that as consumers become more familiar with wine, they will begin to explore more, develop their own tastes and pay less attention to the critics. 
Rising wine alcohol levels in U.S. and foreign wines are a hot topic these days in wine circles. What are your thoughts on the subject?
No winemaker wants to make a high-alcohol wine. However we do want nice, ripe, concentrated wines which typically come from high-brix grapes. If we could get the flavor profile we wanted with less alcohol we would all do it. I think if you gave some of the high alcohol haters an insipid, bell pepper flavored 12% alcohol Cabernet from the 80's, they wouldn't like that either. I am not a fan of out-of-balance alcohol, but you have to go beyond the number. You can have a wine at 15.8% that you don't notice the alcohol on, and a wine at 13.2% that seems hot. It's the balance that matters. One point that hasn't yet come up in the alcohol debate is the addition of water (we call it rehydration). All winemakers can essentially adjust the eventual alcohol in our wines by adding water to the fermentor and lowering the brix. I think as higher alcohol wines lose favor, you will see more and more of this.
You make wine from a notable property, specifically the first vineyard planted in the Edna Valley. Does that sense of history weigh on you?
Yes. This vineyard has been producing grapes since well before I was born. One of my goals is to let the wines show their "Chamisal Spice" as we call the aspects of terroir that this historic vineyard gives to the wines.

You produce a variety of Pinot Noirs and Chardonnays. Aside from those wines, what varieties would you like to see the public embrace more fully and why?
Grenache is a wonderful varietal in many ways which, similar to Pinot Noir, can be made in so many different ways, from light and pretty almost Rose-like, to big, dense, spicy Reds. I plan on working more with Grenache in the future. I would love to see Californian's drink more Riesling and Gewurztraminer, but unfortunately, apart from a couple of small regions, these don't grow well here.
You are a New Zealander by birth and have worked harvests all over the world. Is the California Central Coast your home, or would you eventually like to return to New Zealand and make wine there on a long-term basis?
The Central Coast is certainly my home for now. My job of teaching Californian's how to make un-oaked wines is not yet done. Once this is achieved I can go home to New Zealand. 
What are the fundamental differences between U.S. wines and international wines in your experience?
I think U.S. wines are driven more by individual critics and not enough by the vineyard and the style of the producer. I think this is slowly changing though. 
Are pesticides overused in today's wine industry and is there ever a time when they are appropriate?
Pesticides certainly have their place in modern viticulture. Without them wine would not be as good and certainly would be far more expensive. I don't think there is any other agricultural industry doing a better job of reducing their pesticide use than the wine industry. Chamisal recently became SIP Certified ("Sustainability In Practice" - a rigorous Central California farming protocol). We were already doing all the right things we just made it official.
Approximately how long does it take for a vineyard to become "mature," meaning it truly expresses itself where it is planted, as opposed to trendy clones and rootstock used?
Young vines express their clonal characteristics very strongly, but over time they seem to adapt to their environment. The differences between clones lessen and terroir begins to have an overriding dominance on the wines. I would say a vineyard is mature at about 15 years of age and it is only after this that the best wines are made.
You have wines in your portfolio ranging from under $20 to over $80. Is wine just too expensive for a lot of people? And are the prices justified given the quality in the bottle?
It's important to me to have a full spectrum of wines - those that can afford to be enjoyed regularly (like our $18 stainless Chardonnay), and those special occasion wines that go into the cellar for several years (like our $80 Morrito Pinot Noir). I think more than ever, almost everyone can afford to enjoy wine. There are some great wines available for under $10 a bottle.