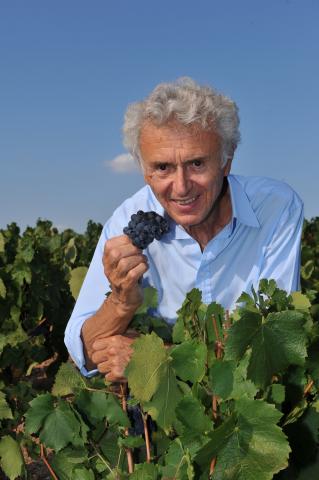 Georges Duboeuf is practically a legend. Originally from the Pouilly-Fuissé region of Burgundy, Duboeuf was raised on a small farm where his family owned a few acres of Chardonnay vines. His father died when Georges was young, therefore his uncle and older brother, Roger, took over the business. Duboeuf helped out on the family vineyard growing up, even using the manual grape crusher when he was just six years old. By age 18 he was delivering wine on his bicycle from producers to local restaurants. He began bottling Beaujolais to meet one of his customer's demands. Duboeuf became a négociant in 1964, when he founded Les Vins Georges Duboeuf. He is best known for Beaujolais Nouveau, though he produces many others. His wines now hold world-wide appeal and are sold in an astonishing 120 countries.

Having grown up in the wine business in the Burgundy region were there ever any doubts you had about being in the wine business long term? If not winemaking, what path would you have chosen?
I was born and raised in Chaintré (France), on a small farm where for four centuries my family has owned and worked their vines in Pouilly-Fuissé. I started working in the vineyards at a young age and learned winemaking from my uncle and brother.
Then I went to Paris to study sports, I wanted to become a physical education teacher. But I missed the vineyards and went back to Chaintré when I was about 18 years old. And then things happened! My passion has been growing ever since. When I am in Beaujolais, I wake up at the morning's first light, and I taste about 200 wines a day with my son Franck. I don't think I will ever get tired of it! Every wine brings new smells and flavors – it's a never-ending discovery. If not a winemaker, I could have been a physical education teacher, or maybe a writer. I love reading, especially poetry, but I'm not sure I would have made a living out of it!

You have created one of the most well-known wine events with the release of Beaujolais Nouveau each November. Has the long-term success of these annual releases surprised you?
Every day brings surprises and delights. Sharing the arrival of the Beaujolais Nouveau with the world didn't happen overnight. We have worked hard all these years to bring the best product possible to the market while conveying the spirit of the Beaujolais Nouveau.
Originally, Beaujolais Nouveau was celebrated in the region of Lyon in France as the primeur for the season; the first taste of the vintage to come and the end of the harvest and hard work! This is the wine of good times with good friends – I guess that's what has made it accessible to everybody.

How important was it to redesign the Nouveau labels, which have become so well known, into a bright, flower intensive design?
Art is another of my passions, and I have always been supportive of upcoming talent.
Though many think of Beaujolais as a young fruit-driven wine, there are a diversity of styles you produce. What are some of your favorites?
The Beaujolais Crus represent the finest vineyards of the region. The wines, made from 100 percent Gamay grapes, tend to be fuller, more dense, aromatic and complex than other Beaujolais wines. The 2010 vintage is a remarkable follow-up to the outstanding 2009. 
The release of Beaujolais Nouveau each November is full of stunts, media campaigns and celebrities. In today's wine world with so much competition, how important is it to marketing your wine, and is your gregarious approach a model for others to follow?
The end of the harvest has always been an annual celebration for Beaujolais winemakers. Until World War II, this wine was only for local consumption. In the 1950s the Union Interprofessionnelle des Vins du Beaujolais (UIVB) changed the release date to the third Thursday in November, henceforth creating Beaujolais Nouveau. This opened up a myriad of opportunities to promote this young wine around the holidays. We helped make Beaujolais Nouveau into an annual celebration, and have worked with W.J. Deutsch & Sons since the early 1980s to turn the annual arrival into the biggest wine-related party in the United States. The celebration of Beaujolais Nouveau is now an anticipated event in the U.S. (as well as all over the world), and it is important to keep up the excitement with fresh new ideas each year.
A lot has been written and debated concerning the 100 point rating scale. Some say it has empowered consumers, others believe it has distorted wine prices, while still others say it has gone further and actually changed the quality of wine being produced today. What do you see as being the long term impact of this ever-so-powerful 100 point rating system?
The rating system is a reference used by consumers as guide when choosing wines. It is an important tool in our industry. 

Rising wine alcohol levels in U.S. and foreign wines are a very debatable topic. What are your thoughts on the subject?
The alcohol level (usually between 12% and 13%) in our wines is dependent on what nature gives us every year. The alcohol level is impacted by the weather and the amount of sun and rain over the year. My primary task as a winemaker in Beaujolais is to reveal the Beaujolais terroir character and fruitiness and produce wines that best express and reflect the personality of their appellations.
With production of well over two-million cases of wine annually, do you ever worry about the quality of your wines suffering?
We do not produce two million cases of the same wine, we produce several single Domaines and as a negociant, we select the best grapes from the best winegrowers. We also have our own winery to better refine the quality of our wines.
When you're away from the spotlight, say a quiet night at home, what do you prefer to drink?
I always enjoy spending time at home with my family and with my friends. Even then I enjoy a good glass of wine. One of my favorite moments is to savor a wine particularly recommended and selected by a friend. This is what wines are about: sharing, having a good time, celebrating.
How would you best like to be remembered?
That I am a man of passion, dedicated to the wine industry and the region of Beaujolais.