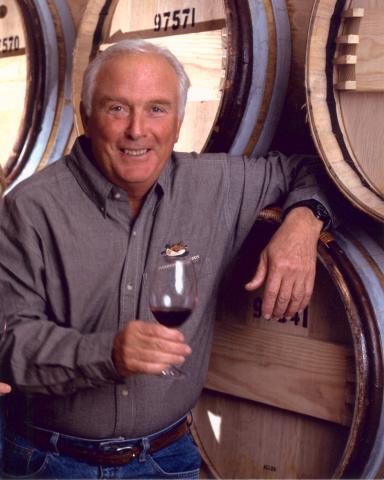 With the founding of Duckhorn Vineyards in 1976, Dan and Margaret Duckhorn played a pioneering role in establishing Merlot as one of North America's great premium wine grapes. Duckhorn Vineyards produces several single-vineyard Merlots and Cabernet Sauvignons, as well as a highly regarded Sauvignon Blanc. Their work as wine industry leaders has been recognized on many fronts including the New York Times which dubbed Dan as "Mr. Merlot." The Duckhorns took that same Merlot vision and applied it to Pinot Noir in Mendocino's Anderson Valley with Goldeneye. In July, 2007, GI Partners, a private equity firm, purchased a controlling interest in Duckhorn Wine Company. 
You are officially "retired" from the winery you founded, but you still work in the wine business. Why?
I am involved in the wine business through my role as Chairman of Duckhorn Wine Company and as a member of the Board of Schramsberg Vineyards, including Chair of both companies' audit committees. Both companies have asked me to serve in these roles, and I feel that I can contribute as an experienced sounding entity. I have no other active interests in the wine industry, which allows me to enjoy my retirement and corresponding hobbies.
What prompted you to pursue a career in wine? If not the wine business what path might you have chosen?
I became engaged in the wine business about 40 years ago as a manager of a grapevine nursery and vineyard consulting company. This came about through my employment by the Crocker family in venture capital. The family made the small investment, asked me to supervise the early years and I became hooked. Had this not happened I would most likely have remained in the financial world.
Briefly describe your winemaking philosophy.
I believe, in this business, one must adhere to several truisms:
1.       Operate in the premium price arena
2.       Focus on building strong brand equity
3.       Minimize financial risks with a strong equity base
4.       Locate in a proven and highly recognized viticulture area
5.       Aggressively control the supply of premium quality grapes
6.       Build an attractive but functional facility to focus on direct-to-consumer sales
7.       Diversify product risk, be innovative and let the market dictate growth
8.       Never waiver from long-term quality control
9.       Establish a "couture" culture throughout the organization 
What wine varieties would you like to have worked with, and is there still a chance you'll be producing any new wines under a new label?
This question is best left to the current management, but if you observe the last five years at Duckhorn, you will note the strong moves to new wines and labels, which gets back to what I was saying about being innovative and letting the market dictate growth. 
There is both criticism and praise for the 100 point rating scale. Some say it empowers consumers, distorted wine prices, and maybe has actually changed the quality of wines being produced. What are your thoughts on the 100 point rating system?
The 100-point system is the wine industry's answer to the Academy Awards, NY Times Book Review, the Star system for restaurant ratings, the Heisman award, etc. There is no rating system for beer or gin, but those producers engage in massive advertising. The real problem today (remember in the early years we needed some way to get people to drink wine at any level) is if a wine does not obtain a 90-something or above, there is little sales impact. Duckhorn was the fortieth winery in the Napa Valley - now there are over 450. Since sales preclude advertising, and we have the point system, wineries must innovate and use other means to engage consumers and trade. 
Rising wine alcohol levels in U.S. and foreign wines are a hot topic these days in wine circles. What are your thoughts on the subject?
Wine alcohol levels rose as an adjunct to the style consumers are seeking: full-bodied, darker color, richer textures, fruit-forward and immediately consumable. Higher alcohol levels are the byproduct of this style. For producers in this style, ageability is not a goal today, whereas ageability has always been a part of our thinking at Duckhorn. For me, balance is the key. I personally believe the pendulum has swung too far and will swing back a bit as consumers welcome a return to increased acidity. Coincidentally, in the last few vintages nature has provided us with significantly lower alcohol levels than in years past so it will be interesting to see how consumers respond.
Touring Pomerol and other regions in France you tasted Merlot. What specifically lead you to believe you could make world class Merlot in Napa?
We wanted to be innovative and stray from the norm. At the time we started, growers planted a lot of Merlot as a blending grape (except for Three Palms). We knew we could get great grapes, but we had no idea the market would respond so favorably; nevertheless, the wine had to have a softer more approachable style to entice new wine drinkers.
It still seems that Merlot is an under appreciated grape (Sideways didn't help its image, I'm sure), but why do you think that Merlot has long been treated as a step child?
Our industry cannot measure consumption easily by varietal, however the statistics we do have suggest that the consumption of varietal Merlot is not on the wane, and in fact, at Duckhorn our sales have never been better. This said, as Duckhorn was charting a course for top-tier Merlot, we had to establish its reputation while wading through some less than stellar wines as everyone jumped on the bandwagon. With higher quality grapes (clonal/rootstock/terroir) and improved winemaking techniques, top producers are making better Merlots today than ever, which is keeping the wine in a broader market spotlight.
After finding success with Cabernet and Merlot in Napa, you started Goldeneye in Mendocino to produce Pinot Noir. With all the wonderful vineyard sites in Sonoma, why choose the obscure Anderson Valley?
We wanted to make Pinot Noirs that was equal in stature to our Merlots. We looked at fruit from all over: Russian River, Sonoma, Carneros and the Anderson Valley. We thought the Anderson Valley had all the ingredients for producing world-class Pinot Noir, and great land was available at a reasonable price. We believed that we could improve the grape quality and the current winemaking style in an existing Pinot grape terroir. A big part of that vision meant establishing an estate program. It was a major gamble and a great vineyard and winemaking team executed the payoff. On a broader scale, you can find a confirmation of what has been achieved in the valley at the Anderson Valley Pinot Noir Festival.
Your Merlots are in the $80 range, and your Cabernets in the $90 range. Explain how these wines are reflective of their price.
Our core Napa Tier wines are in the $50 to $60 range. Our estate wines are in the $80-$90 range. Our retail prices are very much in line with the market and compare quite favorably to our neighbors. While the price of oak, grapes, labor and other inputs have gone up considerably over the past few years, we have elected to take few if any price increases. We have been handsomely rewarded for this by consumers who recognize our long-term focus on high quality, and maintain their allegiance to our world-class wines.