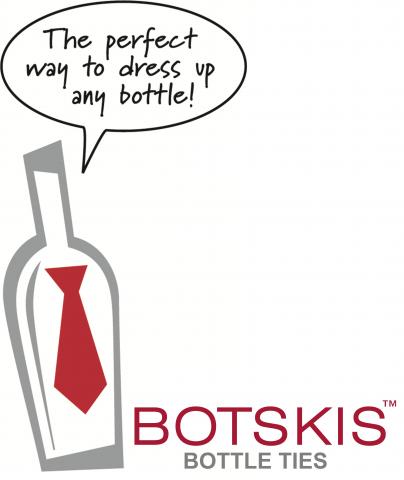 IntoWine recently caught up with Holly Mueller, Marketing Director from Botskis Bottle Ties, to discuss what bottle ties are and how this fun accessory is sure to be an instant hit at any party or occassion.
 Tell me about Botskis and how it got started:
 Botskis Bottle Ties are miniature sized neckties that fit on any bottle and increase the enjoyment of what's inside.  Whether accessorizing wine or spirits, beer or sparkling water, Botskis are the perfect way to dress up any bottle for any occasion.
Botskis got started because we are bottle enthusiasts (and we know we are not alone)!  We love to entertain and gift bottles for all of life's occasions.  Whether it's a backyard barbeque or a formal wedding, we are toasting and gifting with bottles.

What inspired the idea for bottle ties?
Bottle Ties were inspired from the enthusiasm we've noticed in which people gift and share bottles with their friends and families.  We could see the available options to gift bottles with were lacking in many ways.  The other options fall off when pouring, are big and bulky, or they just plain get in the way of enjoying what's inside the bottle.  Gift bags and bows are tossed or put away immediately.  Unlike the other options, a Botskis bottle tie truly adds the perfect touch of personality to any bottle, remains on display for the whole event and invariably becomes a memorable keepsake.
For what occasions would you buy a bottle tie? 
We have a rich thematic collection of fun and festive bottle ties for all of life's occasions and for all types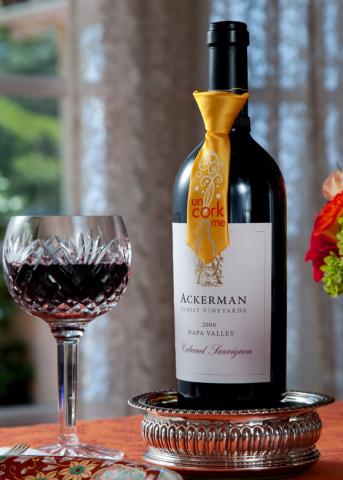 of people with all types of interests.  There are bottle designs for sports enthusiast – from football to fishing.  Handsome designs for those who appreciate fine wine and spirits.  There are even innovative designs that light up or play music for those looking to add a little extra flair to any celebration or party.  There are over 30 designs to choose from, conveniently arranged by theme and occasion at www.botskis.com.
Why are people buying these ties?
When people see our pint-sized ties for the first time, they light up with smiles and realize that something wonderful happens when you put a Botskis bottle tie on a bottle.  Our customers start out intending to buy them as gifts, but can't resist getting a few for them-selves too.  Botskis bottle ties can be pared with a bottle of wine to create the perfect present, or as a stand-alone gift in their exquisite packaging.
What is your target market?
Our target market includes both men and women, 21 and older who enjoy wine, spirits and other refreshing bottled beverages.  They are generous, light hearted, and like to have good times with great people.  Most importantly, they appreciate the simple things in life…like how a Botskis bottle tie makes happy hours even happier for them!
What is your biggest selling tie?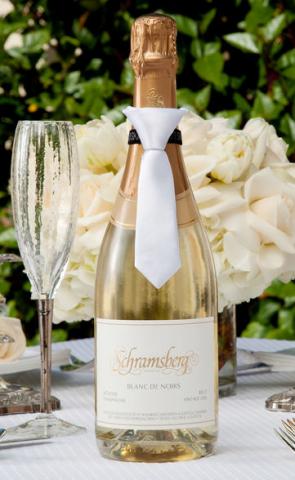 No pun intended, but it's currently a "tie" for the title of top selling bottle tie.  Our Happy Birthday and Congrats themed bottle ties are a big hit and people are buying several of these at a time to have on hand for the unexpected weekly event.  The party themes, including Cheers and It's 5 O' Clock Somewhere really delight people are selling exceptionally well.  However, our classic wine styles, including Vino, Salute, and our exclusive grapes pattern have attracted national media attention driving sales and popularity of these styles.
How much do the ties cost?
The retail price for of all Botskis's bottle tie designs, including those that light up and play music, is only $9.99.  The miniature size, along with a small price tag, makes Botskis Bottle Ties the ideal gift for any occasion and great way to say cheers to yourself!
To save even more "Like" Botskis Bottle Ties on facebook  at www.facebook.com/botskis.
Where can your ties be purchased?
The entire collection of Botskis Bottles Ties are available for purchase online at www.botskis.com using our user-friendly shopping system.  Select styles are available for purchase at Hallmark and WineSytles locations.  See www.botskis.com for more information.