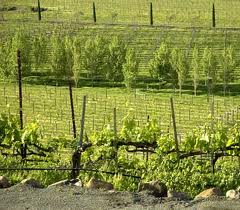 Napa Valley Cabernet—the wine that proved to the world it was possible to make world-class wine someplace other than France. When Stag's Leap Wine Cellars' 1973 Cabernet Sauvignon beat famous French Bordeaux such as Château Mouton Rothschild and Château Haut-Brion, among others, in a blind tasting conducted by French wine experts at the now famous 1976 Paris Tasting, the world took notice. Now Napa Valley Cabernets are served everywhere, and producers like Heitz Cellars and Ridge Vineyards are familiar names on restaurant wine lists.    
There are certain meals that beg for Napa Valley Cabernets, and I bet you can guess what they are—rich, hearty dishes, especially those with red meat. There's a reason for the word "classic" when you think of pairing Napa Cab and steak—the warm climate and variety of soil types is perfect for allowing the thick-skinned Cabernet grape to ripen completely while retaining its high acid and dense fruit concentration. Although Napa is comprised of AVAs that are both cool (Carneros) and quite warm (Calistoga), and vineyards are split between rocky mountain slopes and lush valley floors, Cabernet from Napa has a distinctly American style—high in alcohol, tannins, and acid, with super-ripe, in-your-face fruit and often a big dose of oak.
Rib eyes and lamb chops are fair contenders for such goliath wines. Meals high in fats and proteins call out for a tannic wine because the astringency of the tannin cuts through the viscosity of the fat. When meat is grilled or smoked it becomes an even more perfect companion to the tannin as these flavors mirror the bitterness of the tannins and create a sort of flavor symmetry. Also, the richer the food, the better it stands up against a high alcohol wine. Below are five dishes that beg for a Napa Valley Cabernet:
1.)   Steak au poivre with Cognac sauce. Traditionally this dish is made with a filet mignon, which isn't as fatty as other meats, but this allows for the richness of the sauce to shine. A sauce of Cognac, cream, butter, Dijon mustard, and shallots (to name the ingredients in one version) provides a nice base for the wine, and the pepper reduces the perception of tannin. Caymus Cabernet comes to mind as a perfect pairing.
2.)   Ragout of beef with sun-dried tomatoes and winter vegetables. Thick pieces of beef, a red wine and balsamic vinegar sauce with a beef stock base; semi-sweet vegetables like parsnips and carrots—there's no better pairing than a Napa Cab. The rich sauce stands up to the high-alcohol wine, while the sweetness in the vegetables mirrors the taste of the wine's ripe, extracted fruit. Try Hollywood & Vine Cellars' "Short Ends" Cabernet.  
3.)   Spanish lamb ragout with roasted sweet peppers. A variation on the winter beef ragout and a reminder of how well lamb pairs with Napa Cab. Spices like cumin, pepper, parsley and black olives go well with a wine that's oaky and jammy with fruit, and roasted peppers also pair excellently with oaky wines since the smokiness is an element in both the charred peppers and the wood. Spring Mountain Cabernet will work well.
4.)   Bison kabobs. The red meat of the southwest, bison is lean but when grilled, the charred flavors of the meat and the vegetables mellow the tannins in the wine. Using whole mushrooms is a nice way to mirror black-soil, earthy components found in some Napa Cabs, and brushing the kabobs with spices also mirrors a wine with some herbal, spice components. A good example would be Heitz Cabernet.
5.)   Baked eggplant with mushroom and tomato sauce. Ok, this is definitely not red meat, but vegetarians enjoy their vino, too! Eggplant is a great pairing for Napa Cab since it is one of the more bitter vegetables, and bitterness in food actually complements the bitter tannin in a wine. The tomato sauce will add a sweet component to the dish when paired with a ripe, fruity Napa Cab, like Stag's Leap Wine Cellars' Artemis.
The next time you're really hungry prepare one of these meals, keeping your sauces rich, your vegetables bitter, your meat smoked or grilled or braised, and no one at the table will be disappointed. And if these dishes are too involved for your Saturday night movie marathon, throw some steaks on the grill and voilà! The perfect meal for a fruity, rich, full-bodied Napa Cab. Enjoy!