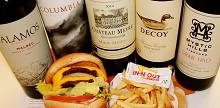 In-N-Out Burger is pretty much an institution in California, actually starting in 1946, and they now have 300 locations. Oh yeah, and they are all family owned. But the beauty of their fresh ingredients is that there are many wines, globally, that can work within the narrow parameters of the food – burgers and fries.  With In-N-Out locations in California, Oregon, Nevada, Arizona, Utah, and Texas, IntoWine pulled red wines from France, Napa, Argentina, Washington State, and Monterey, each with their own ability to work with the classic Double Double - an amalgam of lettuce, two beef patties, tomato, cheese, white onion, and their "spread" which has been unchanged since 1948. Though no one's exactly sure what it is, however it does resemble 1,000 Island. The result? Out-standing! 

2016 Alamos Malbec, Argentina ($13)
The taught, angular nature of this Malbec works magically with the burger and fries, offsetting the harsher onion and saltier fries while finding a way to enhance the meat and cheese elements. Made of 90% Malbec with wee bits of Syrah and Bonarda there are aromas of violet, plum, black cherry and dusty cocoa powder notes, along with a muted but persistent finish covering the back palate. The lack of egregious oak makes the burger taste better without overwhelming it.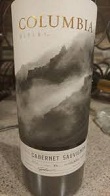 2014 Columbia Winery Cabernet Sauvignon, Washington State ($16)
Predominately Cabernet Sauvignon with small portions of Mourvèdre, Syrah, Merlot, Cabernet France and Malbec, these grapes come from the Columbia Valley AVA in Washington. With subtle fruit, like deep blueberry, black berry and red cherry, the wine offers mild tannins and acidity and the slightly rustic nature of this Cabernet, something Washington is known for, hits the secret sauce, cheese and onion quite well, making them stand out while complementing the meat.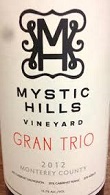 Mystic Hills 2012 Gran Trio, Monterey County, California, ($25)
You don't often think of Bordeaux varieties from Monterey but there are some expressive pockets and Mystic Hills has found them. Cabernet Sauvignon, Cabernet Franc and Merlot collide in a lush silky wine with black cherry, black berry, blueberry and raspberry with vanilla and oak to make a luxurious wine, which offsets the entire double double. There is enough acidity on the wine to hold up to the saltiness of the fries and tomato while accenting the two grilled patties. 

Chateau Meyre 2014 Haut-Medoc, France, ($25)
Merlot, Cabernet Sauvignon, Petite Verdot and Cabernet Franc from the center of the Crus Bourgeois du Medoc appellation make up this wine with its herbaceous notes and subtle fruit. Muted blackberry, cranberry, lingonberry and dusty notes fill the palate while the acidity cuts the onion and the salt of the fries.  Using less overt oak, this wine compliments the burger on the whole since the various flavor components are able to shine through.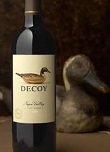 2014 Decoy Red Wine, Napa Valley, ($25)
Mainly Merlot with Cabernet Sauvignon, Petite Syrah, Cabernet Franc and Petite Verdot, coming from Sonoma this is a luxurious wine with blueberry, blackberry, sweet rhubarb, black cherry, and back notes of sage, wet earth.  These combine with the notes of the field; mainly juicy tomato, lettuce, and onion accenting them, while supporting the meat. The viscosity of this wine also works well with the various softness of the bun, crisp lettuce and the creamy sauce.