Let's face it, Mom probably drinks because of you (I know mine does). So IntoWine.com wanted to celebrate Mom with a dozen rosés, wines that are similar yet wildly diverse. Provence is the undisputed birthplace of rosé and the ancient Greeks brought vines to southern France around 600 BC, something the Romans improved upon when they arrived in the area in 125 BC. So rosé has a long history but as these wines show, rosé is truly global.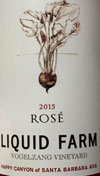 Liquid Farm 2015 Rosé Mourvèdre
Santa Barbara is so hospitable that most anything can grow there. The Vogelzang Vineyard in Happy Canyon has long produced stellar fruit and this Mourvèdre (and 5% Grenache) beauty is all pomegranate, black cherry, rhubarb, resin, a potent minerality and nice acidity, making it a heavier pink, shunning the light and bright mentality and aiming for a wine able to stand up to a variety of foods. Liquid Farm is tough to find because it's become something of a phenomenon, but find it for Mom. ($27, liquidfarm.com) 

Truvee 2015 Rosé
Comprised mainly of Grenache, with small amounts of Syrah, Tempranillo and Roussanne out of Paso Robles this is an immediately likable rosé with overt notes of ripe strawberry, apple, sweet blackberry and perfumed, floral back notes of lavender, rose, and chaparral with a clean line of acidity running through it. The quaint bouquet of a spring garden makes this a unique wine with lingering scents. It is soft and delicate and dare we say, pretty. ($15, truveewines.com)

Ruffino Sparkling Rosé
When you pour this into your glass a thousand bubbles explode. Made from Galera (Prosecco) and a wee bit of Pinot Noir this quiet beauty from the Northwest region of Italy is a great every day sparkler as it is low in alcohol, clean and super tasty. Light and effervescent with strawberry with notes of ripe melon, black cherry and rose water it's surprising this is their first attempt at this type of wine, but Ruffino nails it. ($15, ruffino.com)

J. K. Carriere 2015 Glass
Not exactly red, not exactly rosé, this White Pinot Noir from the Willamette Valley in Oregon proudly announces something new. Using only cluster pressed Pinot Noir, they claim this was crafted as homage to turn of the Century non-bubble Champagne.
The wine possesses buttery strawberry and rose petals on the nose while on the palette the soft minerality and wisps of blackberry and lime surprise you along the way. ($24, jkcarriere.com)

Noble Hill 2015 Rosé
Hailing from South Africa, this 100% Mourvèdre wine grown on granite soil in the Simonsberg-Parrl region offers up subtle black currant, wild flower, strawberry, orange liqueur and a bracing and judicious minerality and acidity with a resin-like finish that leaves the palette clean, yet still offers a tantalizing tasting experience. This is an excellent wine for its perceived simplicity, something not so simple to make, however. ($11, noblehill.com)

LaZarre 2013 Vin Gris
Adam LaZarre has created many iconic wines but his Monterey based Vin Gris of 100% Pinot Noir shows his softer side. Extensive lees aging and resting in older oak barrels for nine months gives this pink a structure and minerality often lacking in rosé. There are subtle flavors of cherry, strawberry, rose water, a hint of black cherry and quiet caramel and cedar. Just 98 cases were made so Mom should feel special. ($18, lazarrewines.com

Domaine Carneros Cuvee de la Pompadour
Mom likes bubbles. Therefore the Domaine Carneros Cuvee de la Pompadour - a brut rosé blended from Pinot Noir and Chardonnay – is the ideal traditional French Sparkler, though made in Sonoma. There are delicate hints of strawberry, pomegranate, apricot, peach and lime with fine pinpoint bubbles, and it offers terrific value for a non-vintage sparkler. ($37, domainecarneros.com)

Whispering Angel 2015 Cotes de Provence
This angel doesn't shout. You'd think with a wine made of Grenache, Rolle, and Cinsault you'd have a more in your face wine but this is a subtle as mom after a few glasses of wine. Subtle strawberry, mild grapefruit, peach, raspberry and lemon-lime bookended by acidy and minerality, this almost opaque wine, delicately speaks to you in hushed tones. ($18, esclans.com/whispering-angel/)

Rotari Brut Rose
Made from Pinot Noir and Chardonnay and seeing no oak but allowed to mature on the lees for two years, this nearly salmon colored rosé from the Dolomites in northeastern Italy offers a fun effervescence with baked apple, strawberry, quince, subtle black cherry and boysenberry and finishes clean with a stream of resin and minerality. ($20, rotary.it/en-us)

Halter Ranch 2015 Rosé
Paso Robles does many things well and it's only now getting into the rosé game. Fortunately Halter Ranch has been making a terrific rosé for a while so everyone else has something to emulate. This blend of mainly Grenache with a modest amount of Picpoul Blanc and lesser amounts of Mourvèdre and Syrah was stainless steel fermented resulting in notes of strawberry, watermelon, light meringue and a tropical kiwi and lime with a proper acidity. ($21, halterranch.com)

E. Guigal 2014 Cotes du Rhone
The Rhone Valley in France turns out a number of rosé and this popular and iteration, a blend of Grenache, Cinsault and Syrah, focuses on light notes of pomegranate, lemon-lime, strawberry and quince, the acidity and minerality on this clean wine stemming from limestone soils makes it an ideal companion with food. ($15, vintuswines.com)

Adelaida Estate Rosé 2015
Take Grenache, Carignan, Cinsault, Mourvèdre and Syrah and tell them to act like they were grown in Provence and you'll have an idea of this Paso Robles wine accomplishes. Lean and crisp with pomegranate, lemon curd, kiwi-lime and raspberry notes, this very non-California rosé speaks to the power of how terrific rosé can be made most anywhere, and how there is a wine for every table. ($20, adelaida.com)