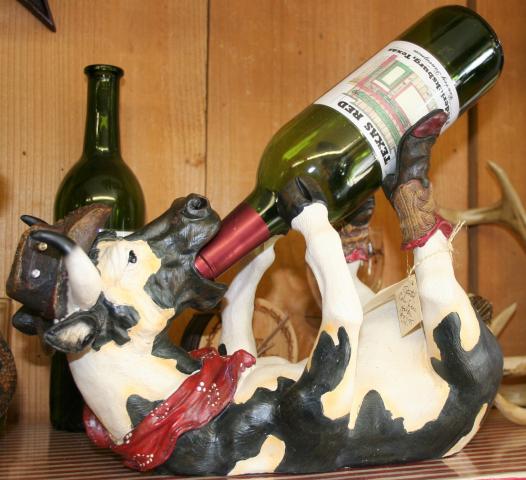 Wine has been made in Texas as far back as the late 1700s when the Spanish planted the underwhelming Mission grape. Today the state is the 5th largest producer of wine in the U.S., which may surprise you; however the caveat for Texas wines is that most of it is consumed by the 25 million dedicated Texans who drink it before the rest of us can get hold of some. "There's a pent up demand for Texas wines," admits Grape Creek Vineyard owner Brian Heath. And let's face facts, Texas and the rest of the U.S. have had little to drink wine-wise except for what California produces, and now, with the help of the slow food movement, and awareness of all things "local," states want to drink what they make.
There is, to some degree, a built-in audience for wine and many states and wineries are capitalizing on that. Wineries and official wine routes are springing up, like a surprise dust devil in Texas. Route 290 in Fredericksburg, which has nearly a dozen tasting rooms, is fast becoming the defacto wine trail, since it's an easy drive from San Antonio and Austin. The Hill Country as it is called is becoming clustered with wine tasting rooms and even restaurants like the Fredericksburg-based Cabernet Grill serve only Texas wines, by the glass and by flights. But hold your horses. There are a few things to consider.
By and large Texas wines are improving their quality and getting a better handle on which varieties do best. The downside is the vineyards' relationship with Mother Nature. Obviously that's true for farmers everywhere, but Texas has its share of weather which is the most critical factor in the growing season; it's a focal point for Texas as ripening can become difficult due to wild temperature fluctuations and random hail, rain, and extreme heat. "One of the issues with Burgundian varieties here is getting that herbaceous quality," says winemaker David Kuhlken of Pedernales Cellars who makes some of the best Merlots, Cabernets and GSMs in the state. On the whole however these traditional varieties don't excel and a briar-like quality can be present in the red wines.
Tempranillo and Petite Sirah are the up and comers for reds and there are very good quality versions consistent throughout the state. "But only 1 in 3 tasting room customers even know what Tempranillo is," says Kuhlken who realizes the learning curve for new grape varieties will take a while. White wines are, overall, the better wines represented with more comprehensive with good acids, and proper varietal characteristics of the individual grapes. Chenin Blanc, Pinot Grigio and Viognier are the clear winners while Chardonnay is better left to California. Having said that, the white wines from Perdenales and Grape Creek are excellent. "Acid for the whites is one of the biggest issues here, and though a lot of growers are focused on brix, the acid is fundamental," says Heath. "We've been pleased with the acid balance of the white wines. Most varieties don't work well as stand alones," he admits, therefore blending is crucial to make these wines succeed. "We use predominately American oak, but we do use French, both old and new. We believe it adds a softening and complexity to the wine," Heath adds.
Heath, a sort of poster child for Texas wineries, did what many winemakers do. He originally looked to establish a winery in California, but eventually realized the growth potential of the Lone Star state. "In Texas there's more of a pioneering spirit; we'd be one of the millions in California." Texas is still finding its niche and the model has been that most Texas wineries are located in Central Texas, however much of the grape-growing is in West Texas, like the High Plains region. That means a three or four hour drive to visit your fruit. With that kind of distance and the funky weather, it's not uncommon for wineries to buy grapes from outside the state to make certain they will have product to sell. In Texas 75% of grapes in the bottle must be sourced from within the state, and outside sources include New Mexico and yes, California.
Texas is certainly a force to be reckoned with as eager winemakers believe they can produce excellent quality. Though Texas will never directly compete with California for sheer scale, it is encouraging that wineries are making their own state proud. In Lubbock, McPherson Cellars is a terrific winery and while around Fredericksburg, make certain to visit Grape Creek Vineyard, and Pedernales Cellars. Trust me, you'll be very pleasantly surprised.