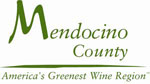 Mendocino wine country is a lot like my sister – the middle child who never gets any attention. Napa and Sonoma are the best known regions, Paso Robles is "up and coming" and Santa Barbara had "Sideways" to thrust it into popularity. Mendocino seems left out of the equation. Geographically, Mendocino (just Mendo as it is known) is north of Sonoma, but few wine lovers ever seem to make it that far. They should.
Mendo is best known for the highest percentage of organic and biodynamic vineyards anywhere in California. There are only 84 wineries here and grapes were originally planted in the late 1800s but Prohibition stopped the growth, so the area turned to apples, walnuts and peach orchards, many of which still produce fruit. The same time that the Mondavi brothers planted vineyards in Napa in the mid-1940s, Charlie Barra, the patriarch of Mendocino wine, was busy planting grapes in Ukiah, the most populous city in Mendocino located along Highway 101. "Bob and Peter Mondavi, the Wente's and Louis Martini came up and they helped me pick out grapes and parcels," Charlie told me over dinner. He'd seen an article in National Geographic which suggested that an acre in Bordeaux could be had for $40,000 while an acre in Mendocino sold for just $400. He inherently understood there was room for wine growth. "I borrowed all the money I could and planted. Nobody else was planting grapes, no one was that dumb," he says laughing. UC Davis told Charlie what varieties he should plant. His father and grandfather suggested different grapes. Charlie knew that the university types had, "never planted a grapevine in their life," so as a 20-year old he listened to his family who had planted grapevines in Italy. He planted on St. George rootstock not AxR1 as the University had suggested which eventually had to be pulled out and why much of Napa and Sonoma had to be replanted.
These days, thanks to the far-sighted Barra a new history is emerging; solar panels are present in vineyards, on winery buildings, and by the side of the road. To facilitate biodynamic farming (essentially a closed loop farming system whereby natural farming methods are used and nothing manufactured is allowed) sheep graze the weeds between grapevine rows. Even the plastic green ties that most of us use in our gardens to tie tomato plants to stakes are not allowed. In its place is a natural tying method, used by both Bonterra and Chiarito wineries; pliable willow tree stalks are the new preferred ties, as they will eventually return to the earth from whence they came. This doesn't mean every winery has gone "green," many still farm with traditional chemicals, but you won't find a greater concentration of farmers who trust the land to work as it has for thousands of years. "We're resisting the urge for the quick fix," say vineyard manager David Koball of Bonterra. "How can we manage the vineyard differently and not have the problem start altogether?" he asks rhetorically. "If I look at leaf-hoppers, they are symptomatic of an over vigorous vineyard, if I can control the vineyard and get the vines in balance, I've solved the problem," he suggests. "Spider mites are a symptom of an over stressed vineyard, if I can control the stress and keep the vines propped up, there's no problem; it's a natural system." That's not to suggest there will never be spider mites in their vineyard again but it is treated naturally, not with chemicals. And frankly, would you prefer your wine to be free of chemicals or not? Perceptions are slow to change about organic farming, but it is happening. "We want to have a good wine in the glass, and then we talk about organic," Koball says. "Back in the 1990s it was all about being organic. Now it's about producing a high quality product that happens to be organic."
And every type of winery is represented in Mendo: from the massive Bonterra Vineyards who churn out 300,000 cases of inexpensive though effective organic wine, to the majority of small family-run operations with less than 2,000 cases. Some of the best include Philo Ridge, Rivino, and Chiarito who produce wine to rival some of the best in the Golden State. Yes, wine is ubiquitous in California, and just because wine is organic doesn't mean it's worth buying. But Mendo is doing organic correctly, whereby the farming is green and what's in the glass is good. Philo Ridge makes small amounts of terrific Pinot Gris and other whites. Rivino produces terrific Cabernet Franc and hearty reds, and Chiarito, whose small vineyard near the minuscule town of Talmadge, is producing exceptional Zinfandel, Petite Sirah and the obscure Nero D'Avola.
A visit to the Mendocino wine region will change your perceptions of northern California wine in terms of price and quality and the gems of Mendocino will make you eager to return.