We're sorry, this video is not available rnow. Please check back later.
In this episode of IntoWineTV, host Lisa Kolenda and wine experts Bartholomew Broadbent, Cezar Kusik, and Rob Renteria convene at one of San Francisco's finest restaurants, Incanto, to taste and discuss Super Tuscan wines.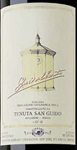 Wine: Tenuta San Guido Guidalberto 2007 ($50)

Find the Tenuta San Guido Guidalberto
Region: Tuscany
Alcohol: 14%
Varietals: 60% Cabernet Sauvignon, 40% Merlot
- Upcoming IntoWineTV Video Themes
- Wine producers and distributors: Find out how to get your wines included in our next session. More info...

Background: The legend that became Sassicaia began in 1944, when Mario Incisa della Rocchetta planted a few Cabernet vine cuttings in a tiny vineyard called Castiglioncello. It was not until over a quarter century later that he first released the wine to the market, in the 1968 vintage. Within a matter of a few vintages, Sassicaia became a legend, not only as a benchmark for quality but as the progenitor of a new breed of Italian wine, and has remained so since. With the 1994 vintage, this unique legacy was acknowledged when Sassicaia became the first wine to be given its own appellation in the D.O.C. system. The 2000 vintage was the first release of a new wine created by the producer of Sassicaia, Nicoló Incisa della Rocchetta, and winemaker Sebastiano Rosa, his stepson, from newly planted vineyards dedicated to the production of this new wine, Guidalberto. Named after Guidalberto della Gherardesca, a maternal ancestor of Incisa who cultivated vines in Bolgheri in the 19th century, the wine is conceived differently from Sassicaia but shaped by the same soil and climate. The Merlot, Sangiovese and 50% of the Cabernet Sauvignon grapes all come from fifteen acres of five year old vines; the balance of Cabernet Sauvignon fruit is sourced from the same vines that produce fruit for the legendary Sassicaia vineyards. This beautifully balanced wine is strongly marked by sweet black Merlot fruit character, with impressions of ripe, concentrated berries in the aroma offset by restrained notes of spice, vanilla and cedar. These carry onto the palate, which shows an elegantly supple texture supported by ripe, silky tannins, ending in a long, refined finish.
Experts:
Bartholomew Broadbent, CEO of Broadbent Selections. Bartholomew was named as one of the "fifty most influential people in the wine world" by Decanter Magazine. He is also widely considered to be one of the world's foremost authorities on Port and Madeira. Learn more about Bartholomew Broadbent.
Cezar Kusik, Fine Wine Specialist, Fourcade & Hecht Wine Selections.
Rob Renteria, Wine Director at Napa Valley's Martini House.
Location: Incanto Italian Restaurant & Wine Bar.  Situated in the heart of one of San Francisco's most charming residential neighborhoods, Incanto's rustic Italian setting, with its handcrafted stone, antique brick and woodwork, 16th century Latin parchments, and private dining room dedicated to poet Dante Alighieri, provides a uniquely warm and inviting dining environment.
Incanto's daily-changing menu honors old-world traditions including house-cured meats, unusual regional pastas, fresh local seafood and a commitment to sustainably grown and harvested produce. Incanto's award-winning wine program features one of the most diverse Italian wine lists in the United States and an ever-changing lineup of more than twenty wines by the glass, half-glass, half-liter, and flight.