Wine doesn't immediately pop to mind when you think of Halloween. IntoWine.com asked a panel of wine experts their thoughts on what wine is a good fit for what is one of the most celebrated holidays:
"I can't think of a better Halloween wine than Poizin by Armida Winery. This wine is perfect to serve if you are throwing a Halloween party or to gift as a guest when attending one. The label is etched with a blood red skull and cross-bones while the bottle top is dipped in in a haunting blood-red candle wax. The bottle itself comes delivered in its own miniature bottle-sized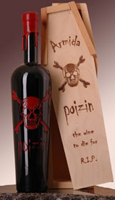 wooden coffin (count on the coffin being quickly claimed by the closest youngster as it's ideal for any kid with even the slightest Halloween inspired imagination). The wine itself is a Reserve Zinfandel, at 15% alcohol it's not your everyday drinking wine but it's fruit forward and will surely be a hit with any Halloween party crowd. Downsides to this wine are that Armida only produces a few dozen cases so it may be hard to find and at $25 a bottle it may be pricey for the the average Halloween party budget. If you are going all out for your Halloween party though, this IS the wine to serve." - Brad Prescott, Founder, IntoWine.com

"Halloween Wine – Nothing says Halloween like Graves. Located just southeast of Bordeaux on the left bank of the Garonne River, this gravelly sub-district of the greater Bordeaux area is known for its intense red wines based on Cabernet Sauvignon and its whites which are often blends of Semillon and Sauvignon Blanc. My suggestion for this Halloween is to try the 2005 Chateau Trebiac. This Merlot-based red has a concentration of flavors that are simply haunting – cedar, currants, head stones, eau de ghoul, fermented grape blood, and a hint of bat venom. The 2005 vintage is one of the best in recent history, but don't worry about holding onto this wine; it's ready to open the cask-et and drink. No tricks here, simply a treat. (About $16)"  - Ben Spencer, Cellar Master at Bernardus Winery and IntoWine Featured Writer
"What could be scarier than an over oaked high alcohol California Cabernet or Chardonnay that costs over $100?  Of course, that recommendation won't give you anything to drink at your Halloween Party. I am going to propose Ghost Block wines.These are not inexpensive, but they are very good. Their Cabernet is around $55 and is as good as many costing twice the price. These should match well with miniature Snickers or Baby Ruth's.  They also make a Sauvignon Blanc, which I have not yet tried, for around $20. This may be priced better for large parties.  Happy haunting." - Loren Sonkin is an IntoWine.com Featured Contributor and the Founder/Winemaker at Sonkin Cellars. 
"I'd recommend the Niebaum-Coppola Rosso (approx $20), a blend of red Italian grapes made by Francis Ford Coppola, the filmmaker of Dracula. Score: 88/100." - Natalie MacLean, author of the best selling book Red, White and Drunk All Over, offers a free e-newsletter at www.nataliemaclean.com.
"Sparkling hard cider. My recommendation is the Eric Bordelet Sydre Doux (Approx $10). Eric Bordelet makes amazing sparkling ciders from apples ("sydre") and pears ("poiré"). They're inexpensive, very low in alcohol, as complex as many wines, and way fun to drink. Although these ciders deserve year-round consumption, they evoke the autumnal post-harvest season particularly well. The Sidre Doux is off-dry and ought to go well with caramel apples, although I honestly haven't tried them together yet!" - Mark Middlebrook, Paul Marcus Wines, Oakland, California
"Pumpkin Wine. My specific bottle recommendation is Prairie Pumpkin Wine (about $12). Made from Pumpkins, this lightly sweet wine is surprisingly tasty. Just the wine to enjoy with those caramel apples, popcorn balls or candy corns." - - Efrain Madrigal, Wine Director, Sam's Wines & Spirits, Chicago, Highland Park and Downer's Grove, Illinois