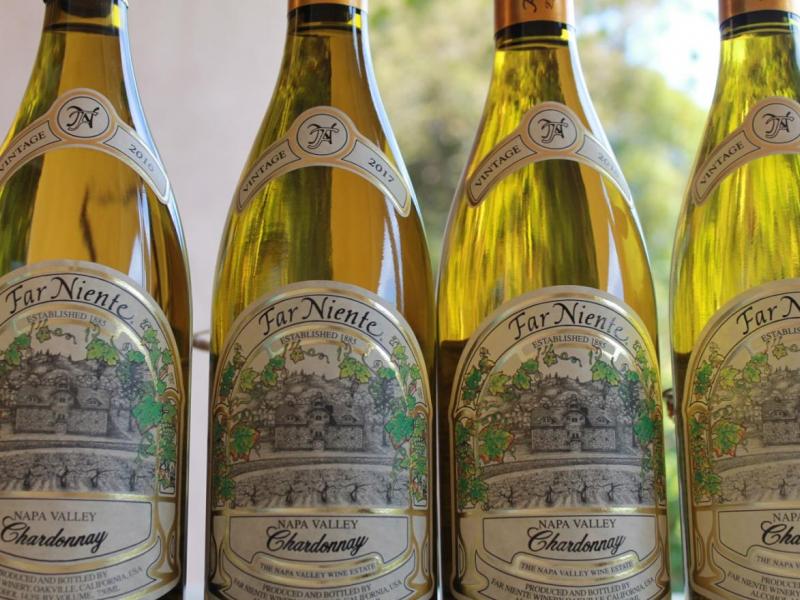 "Our goal was to make the America's finest cabernet and chardonnay," Far Niente owner Beth Nickel told me during a recent tasting. We were tasting four Far Niente chardonnay's: 2016, 17, 18, and 2019 to get a sense of what Far Niente has accomplished, as well as celebrating 40 years in the wine business.
Far Niente is one of the iconic wineries of Napa. But it didn't start that way. "The original winery operated from 1885 until prohibition," Nickel told me. "Then it had been abandoned for six decades. There were no windows or doors on the original building, just lots of discarded beer cans, and animal droppings," she said. But they cleaned it up, and decided to stick with the name Far Niente – an Italian phrase, dolce far niente, meaning "the sweetness of doing nothing." It has since been listed on the National Register of Historic Places.
"When we acquired the property there were fewer than 100 wineries in Napa," Beth recalls. "There were no fabulous resorts, no fabulous restaurants. We thought we were the very last to get in on Napa." Now, the Napa Valley is now home to more than 500 wineries. "It's a whole new shiny world," she says. Of interest to me was that many did not like the now recognizable label when it first appeared. "It was considered garish when it first came out," Beth said. It was too fancy, opulent, even pretentious, but it did stand out among a sea of labels on a wine shelf.
Their first estate chardonnay was harvested in 1982, but from 1979 to 1981, the chardonnay was made off-site. The original motivation for owners Beth and Gil Nickel was to emulate the best of Burgundy. But what happened with Napa was the realization that one need not copy France, what one needed was to make a uniquely American imprint on what France had accomplished for hundreds of years. "We take the best that the vineyards offer us each vintage to achieve the beautiful structure and distinctive style that defines our Napa Valley chardonnay," winemaker Nicole Marchesi says. "From the variety of clones planted in our vineyards to the myriad techniques employed in the cellar, our consistent pursuit of excellence has enabled us to craft an age-able chardonnay that is both rich, refreshing and nuanced." And the 2016, six years old at the time of the tasting, confirms her comment. She describes a consistent culture of curiosity within the winery. "We destem grapes to find more textural complexity, and our chard has been through zero ML." And that's what's unique with Far Niente chardonnay, is that it feels and drinks like an ML wine. But it's not. "It's an honor to be part of such a storied estate," Nicole says. She is only the fourth winemaker in Far Niente's long history, having joined the winery in 2005 as an enologist. "We adapt depending on what the vineyard gives us." She talks about viscosity and oiliness, words that I appreciate because it's not just acidity - there is a palate weight to these chardonnay's. "As winemakers we don't consider ourselves as artists, we're craftsmen."  
2016 Chardonnay
There is obviously age on this and you can taste it, but that age equates to resin, deep butterscotch, white peach, almond butter, guava, Asian pear and a slightly nutty quality. The acidity is still spot on, though softer.
2017
This is a little less structured, a tad less acidity, but still offers guava, slight lemon-lime in the background, honeysuckle, and crème brulee.
2018
Richer and creamier than the previous two, this moves into more guava, peach, kumquat, quince and honey notes, offering a richer mouth feel.
2019
There is more similarity to the 2016: this is leaner, less opulent and creamy, a little more focused, still with pear, peach, guava notes.