Exceeding Our Expectations
Thank heavens, the harvest has begun in exceptional conditions. Over 40,000 people from the farthest corners of France have arrived in Beaujolais for the occasion, and by the end of the week the 22,000 hectares (54,362 acres) of my Beaujolais vines will have yielded their fruit.
Since September 5th, Beaujolais has been blessed with warm days and cool nights – ideal weather for harvesting. True, there was some light rain, but it gently added a touch of vitality and freshness to the vines, washing and refreshing the plants.
Last time we tried the grapes, we were impressed by how rich and sugary they were, already showing a nice thick skin. Now that the grapes are fully ripe, they have exceeded even my expectations and have achieved a level of perfection rarely seen by a vigneron.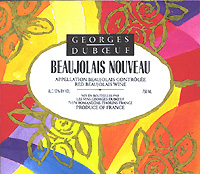 Naturally, perfect grapes are imperative to yield a perfect wine and, so far, 2005 is a marvelous vintage. Each day, it is showing more personality, richness, expression and grandeur – its future is full of promise. The main difference between this vintage and 2003 is that this wine doesn't have a jammy edge to it; 2005 is fresher with more fruit, in short – it is perfectly balanced.
To give you an impression of this year's wine, I must first remark on its color. It is without a doubt the finest palette of colors I have seen in a glass of Beaujolais. There is sumptuous beauty within the glass made up of dazzling red with violet highlights, a deep ruby red with hints of garnet. In the Crus there are deep purple reds that are somber, like the blue of night. This is an impressive livery that is sure to enrobe and embellish 2005's wine.
Find Beaujolais Nouveau:- Georges Duboeuf Beaujolais Nouveau
- Collin-Bourisset Beaujolais Nouveau
- More Beaujolais Nouveau Producers

Beyond its impeccable appearance, the 2005 vintage also contains some of the most remarkable aromas. They breathe a refreshing complexity of black currant, blueberry, blackberry, black cherry and kirsch, intermingled with violet, cocoa, coffee, pepper, licorice and warm spices.
The taste of the 2005 Beaujolais Nouveau lives up to the standards set by its color and aroma. The palate gives the impression of intense concentration. This is a warm wine, bold and fleshy. It is harmonious, voluptuous and seductive. It is the sort of wine to help you rediscover the aromatic palate. The succulent fruits are held together by supple tannins that create the lavish expression of a high class wine. This is the mark of a formidable vintage that will be discussed for years to come.
On November 17th, 2005, you will discover all of this for yourself. I invite you to taste a Beaujolais Nouveau that will quickly write itself into the history of great vintages.
Yours in Beaujolais,
Georges Duboeuf