A Grand Vintage for Georges Duboeuf
EARLIEST HARVEST IN MORE THAN A CENTURY CONCLUDES AT AUGUST'S END
"Harvest goes very quickly and should be over at the end of this week", says Beaujolais producer Georges Duboeuf. This will make the Beaujolais harvest the earliest since 1893. "Very few people will harvest next weekend except on the top of the hillsides". Extraordinary heat and lower than normal rainfall has fast-forwarded the harvest in Beaujolais and throughout France, making what is already a hard job an arduous one as well. By law, Beaujolais grapes must be harvested by hand and it takes legions of pickers to pluck the vineyards clean. "One of our challenges was to find people to pick the grapes", explains Duboeuf, "as most people were still away on holiday. We also had to bring our winemakers back two weeks early from vacation to open the winery".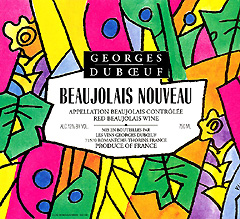 While quality is expected to be superb, quantities will be greatly reduced. Spring frosts reduced the number of bunches per vine, and hail pruned the vineyards still further. Grape size was significantly smaller due to the heat, but concentration and extraction is unprecedented. The quantity of wine for the Beaujolais appellation is expected to be reduced by 40% and for the region overall by 20%. Even without these extraordinary weather conditions yields would have been reduced. At the recommendation of the winegrowers unions, the Union Viticole and the Committee for the Development of the Beaujolais Region, winegrowers cut back vines extensively last winter in order to reduce yields and raise quality.
Find Beaujolais Nouveau:- Georges Duboeuf Beaujolais Nouveau
- Collin-Bourisset Beaujolais Nouveau
- More Beaujolais Nouveau Producers
Georges Duboeuf, who cut short a trip to the U.S. in order to rush home for the harvest, is extremely optimistic about the quality of the 2003 vintage. In fact Duboeuf feels "the 2003 vintage may turn out to be the greatest vintage of my career." Thanks to very low yields, superb grape maturity, and exceptional sugar content he sees great potential for quality wines in 2003.
The arrival of 2003 Georges Duboeuf Beaujolais Nouveau will be greatly anticipated this year. The first wine of the harvest is the harbinger of the vintage and this year's Nouveau is expected to be more concentrated and fuller bodied. Wine lovers are already speculating that Beaujolais Nouveau 2003 will be as distinctive as the year that gave it life. Even though the harvest is a full 3 - 4 weeks in advance, Beaujolais Nouveau will still be released as required by French law on the third Thursday in November.
2003 Vintage Details
The past three months in Beaujolais have been exceedingly hot. In May the vines began to grow very fast thanks to the welcomed heat waves. Although on two occasions the region experienced particularly violent winds that broke young branches since they were quite fragile loaded with grapes, yet without support. The heat held up the growth rate through June and July and as a result, clusters this year are small in size while grapes show space between them. For the past 45 days, as in 2002, Duboeuf's team of young wine technicians has been scouting the vineyards, checking the health of plots, amounts of grapes, and maturity.
While a typical year yields 8 to 10 grapes per vine stock (in 2002 a number of plots counted 12 to 16, so grapes were cut back), this year the striking average reaches 6 grapes per vine stock, and at times only 3 or 4. This is a good indication of how diminutive the 2003 harvests will be in Beaujolais. On average the Beaujolais region produces 1,320,000 hl for every 22,000 ha. According to winegrowers and experts, Beaujolais is currently looking at less than 1,000,000 hl, depending on nature's vagaries between now and the end of harvest.
There are other challenges besides the weather for the 2003 vintage. Duboeuf will increase contacts with the winegrowers and cooperative cellars in order to turn the beautiful sun-loaded, small grapes into outstanding wines. While nature has generously bestowed quality upon the region, it is Georges Duboeuf who must turn the grapes with extraordinary potential into exceptional wines.
It is only once or twice in a lifetime that the Gamay grapes are able to thrive as they have this past year under record sunshine. Vinification will be closely watched in order to produce Beaujolais nouveaux that are delicious and fruity. Gauging temperatures accurately and using a solid cooling system to extract the floral aromas is critical. These methods will give Beaujolais Nouveau 2003 the light and fruity taste that consumers expect from the first wine of the harvest.
Vintages invariably reflect weather conditions. This vintage will most likely be remembered as the scorcher, which gave the necessary essence to produce great wines. Thus, for Georges Duboeuf this year's Beaujolais wines are "not about quantity but about quality, and it is up to the region's winegrowers and wine producers to build on nature's gifts by adding experience, savoir-faire and talent to turn the 2003 vintage into a masterwork from Beaujolais".