2004 Beaujolais Harvest Begins Under Sunny Skies
"The quality of the wine is born on the vine"
The 2004 harvest in Beaujolais began on the 11th of September. Taking into account the aspect and altitude of some of the parcels, the harvest will probably last until around the 3rd of October.
Because of last year's extremely small crop due to storms and scorching weather, this year the vines were laden with grapes. Conscientious growers green harvested in June and July to insure that that aromas and flavors would be intense. After the stress of the 2003 vintage, the best growers took extra care with the vines this year—being vigilant not to over crop and to watch the health of each parcel. Isolated hailstorms affected a few villages in the Beaujolais Villages area on July 20th, but this was not widespread.
Find Beaujolais Nouveau:- Georges Duboeuf Beaujolais Nouveau
- Collin-Bourisset Beaujolais Nouveau
- More Beaujolais Nouveau Producers

"For three weeks leading up to harvest we have benefited from exceptional weather that solidified the quality of the vintage," said Georges Duboeuf. "This is not the first time we have been in this situation: it was the same in 1993 and 1999. We know that the 15 days before the harvest and the weather during picking are what really determines the quality of the crop."
Sunshine in the three weeks prior to harvest pushed maturity and sugar to the desired levels. A northerly wind chased the clouds away, the nights were fresh and the average daily temperatures at midday were between 71º and 81º--ideal conditions for the harvesting of the 2004 vintage. There was a new moon the 6th of September, which usually indicates a period of good weather for at least 3 weeks.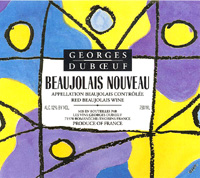 In Beaujolais, the harvest is still made entirely by hand and 40,000 skilled harvesters amass to bring in the grapes. As the President of the Union Viticole at the vignerons reunion at Lacena says, "Make sure you ask all the harvesters to only pick the grapes that you would be happy to eat."
While the first selection is made in the vineyards, Duboeuf also manually sorts the bunches before they go into the fermentation vats. "Only the really black and really healthy grapes must find their way into the vats," says Duboeuf. "The quality of a wine is born of the vine; the winemaker can only put the finishing touches to the work of both nature and man.
"A bottle of wine, and especially a Beaujolais Nouveau, must be the promise of great pleasure," says Georges Duboeuf. "2004 will have the qualities that correspond perfectly to what one looks for in a Primeur wine. The Beaujolais Nouveau will be elegant, silky, full and fresh, with a tenderness and marvelous delicateness of a truly pleasurable wine. A wine full of charm and character—a quintessential Primeur."