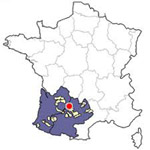 The Village of Cahors is in the southwestern part of France.  The area is known for its red wines made predominantly from the Malbec grape, the same grape that is being used in Argentina to make some of the most popular wines being sold today.  For those fans of Malbec, it may prove interesting to go back and try some wines from its homeland.
Both the wine and the village nearby are called Cahors.  Most of the vineyards are west of the city.  It is an AOC in the southwest corner of France.  Under AOC law, Cahors must be made from at least 30% of the Malbec grape.  The remaining wine may be either Merlot or Tannat.  In Cahors, the Malbec grape is also known as Côt, Côt Noir or Auxerrois. 
Cahors has a longer tradition of winemaking than its nearby neighbor to the east, Bordeaux.  The wines historically tended to be very dark and very strong with a lot of tannins.  They really needed to be cellared for a few years at minimum.  In fact, it was not unheard of to bolster Bordeaux wines with Cahors to add color and body. 
Like much of France, the area was first planted with grapes by the Romans in approximately 50B.C.  It was during the Middle Ages that the red wines of Cahors began to be described as black .  They were known as the "black wine of Lot" referring to the Lot River which runs thru Cahors and which facilitated its distribution.  The color was due to both the grape varieties used; Malbec and Tannat, and the concentration of the wine.  The wine was served at the wedding of Henry II and Eleanor of Aquitaine.  Pope John XXII, a native of Cahors, used it as sacramental wine as well as the wine served at dinner.  After the Hundred Years Wars, the wine producers of Bordeaux, with their British connections, arranged to bar England as a market for Cahors.  The producers in Cahors responded by marketing elsewhere.  Holland in particular became fans of the wine.  It was also popular in Russia where it was known to be a favorite of Peter the Great.
Like the rest of France, the vines were decimated by Phyloxera, which reached Cahors in 1883. After the two wars, killer frosts required almost a complete replanting of the vineyards in 1956.  It was at this time that the Malbec grape truly achieved its dominance in the area. 
There are about 10,000 acres under vine in Cahors.  This is not a large number compared to most wine producing regions and is symptomatic of the obscurity that this wine region faces.  The wines do not command top dollar and are difficult to sell.  Hence, the land has not been as dedicated to grape growing.  While there may be some white and rosé wines made in the area, under AOC regulations, they may not legally be sold as Cahors.  The soils are limestone based with clay and siliceous soils.  The climate tends to be pleasant with a wet springtime, followed by hot and dry summers.  As a general rule, Cahors enjoys the same good vintages as Bordeaux. 
In recent years, the wines being produced are softer and more accessible in their youth.  They are also not as "black" in color.  The wineries in Cahors have realized that they need to change their wines to appeal to today's markets.  The addition of Merlot in particular will make the wine a bit softer and more approachable.  There are a few wines still produced from 100% Malbec. 
Possibly the most famous winery is Chateau Lagrezette.  The Chateau (think castle) was built in the 15th century over the remains of a 12th century fortified house.  It was purchased in 1980 by Alain Perrin and restored.  He has also restored the winery and it now produces some of the best Cahors wine.  Documents show that grapes were harvested there as early as 1503.  They own about 150 acres with 77% planted to Malbec, 21% Merlot, and 2% with Tannat.  Michel Rolland is a consulting winemaker for this property.  Their top bottling is called Le Pigeonnier and is 100% Malbec.  It will cost over $100 a bottle.  The wine is spicy with black fruits and coffee notes.  It gets very high reviews from the wine critics, yet remains difficult to find.  There just is not the demand.  They do make more modestly priced wines, their bas level Cahors is around $25 and is blend of Malbec, Merlot and Tannat. 
One Cahors wine that is priced reasonably and fairly easy to find is the Clos la Coutale Cahors.   It sells for around $15 and is a consistently good wine.  Their vineyards are around 80% Malbec and 20% Merlot.  The wine is delicious young, with spices and plums and cherries.  It can be cellared for a decade during which it will unwind and soften. 
Cahors wines go well with meats and stews.  They are slightly earthier than their Argentinean Malbec counterparts.  Cahors wines work better with food and not quite as well as a cocktail, but that is true in general for old world versus new world wines.  You probably won't see a lot of them on the store shelves, but most good wine shops will have one or two.  It is certainly worth trying.  If you do, I would love to hear what you think.