Cracking Croatian Wine by Matthew Horkey and Charine Tan
Book Review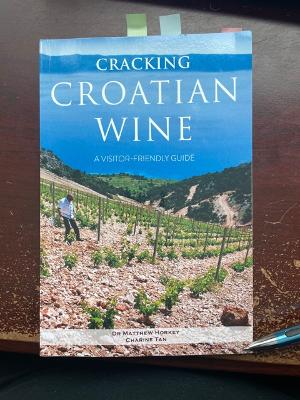 This was the best book I could find on Croatian Wine.  It is also the only book I could find exclusively on Croatian wine.  But don't let that deter you.  This is a very good book that is well written and helpful. 
It is sub-titles as a visitor friendly guide and in many ways it seems to be a travelogue of their time spent in Croatia.  Yet, for me, sitting home in Cleveland, Ohio, it was very helpful to get a feel for the places, wines and people involved in the Croatian wine scene. 
Wine has been made in Croatia since the Greeks introduced it somewhere around 600BC.  There is a thriving wine culture featuring many indigenous grapes that is, unfortunately, unknown in the US. This book does a nice job going thru the history, the language and the regions of Croatia.  The authors also do a nice job identifying producers to look for (not always an easy task) for representative wines. 
There is no doubt this book would be extremely helpful for anyone going to Croatia that is interested in visiting wine country.  It is a compact book (around 200 pages) that would make for easy traveling.  There is a nice listing of not only wineries and their contact info, but restaurants, wine bars and wine stores. 
One of the things I really like is that they take the time to go over pronunciations of the wines and generally with the language.  That is very helpful and again, would be more so if travelling. 
This book is highly recommended for anyone traveling to Croatia or looking to expand their wine knowledge and use it as a resource for finding wines or putting together a tasting.