Best Wine to Pair with Raw or Steamed Oysters
IntoWine asked a panel of wine experts to recommend the best wine to pair with raw or steamed oysters:
News Flash: Champagne goes great with oysters. Oh, wait. You mean that isn't breaking news? Okay, so everybody knows that one of the most classic food and wine pairings of all times is champagne and oysters. Whether you eat them raw on the half-shell, steamed, grilled, or baked to perfection with bread crumbs and mixed herbs Rockefeller-style, nothing compliments the subtle nuanced flavors of oysters like champagne. One explanation for this lies in the soil in which champagne grapes are grown. The Champagne region of France is famous for its chalk soils, which impart an elegance and finesse unmatched by any other sparkling wine producing region. These soils are actually the geological result of an historic sea basin that left behind numerous minerals and sea fossil deposits when the waters receded. It's only natural that a sparkling wine that has its roots in the sea goes well with the fruit of the sea. The Champagne region is full of big house names that used to be the benchmark of quality. But recently more and more small growers are bottling their own champagnes rather than just selling their grapes to the big houses. While the quality of these champagnes can be varied,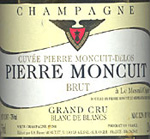 Nichole and Yves Moncuit of Champagne Pierre Moncuit have consistently made champagnes worthy of top accolades. They have vineyard holdings in the same site as some of the most famous names in Champagne, such as Krug and Salon, but their champagnes cost a fraction of the price. Moncuit's NV Brut Blanc de Blanc is a study in elegance with its racy minerality, and layered flavors of citrus, brioche, and cream. No oak is used, and it's purity shines through when accompanied by a plateful of oysters. - Kareasa Wilkins, Wine Consultant for Weimax Wines & Spirits in Burlingame, CA and an IntoWine Featured Writer

---------------------------------------------------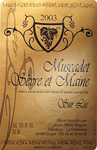 Few customs remain in our modern world. If any type of custom survives it may well be a wine custom. Now it is a fact. Oysters are the most delicious shellfish and crisp white Andre Brégeon Muscadet Sur Lie pairs amazing with them. Though wildly popular, no food or wine tradition has ever been as successful. Produced from the often ignored Melon de Bourgogne grape, the Brégeon Muscadet is a crisp, flinty-smelling, honey-tasting, Chablis like wine from the western Loire Valley of France. It is an inexpensive ($13) and low alcohol (12%) treat. In fact, oysters and Muscadet pair so well Kermit Lynch Wine Merchant created a festival called Oyster Bliss, an oral orgy of oysters and Andre Brégeon Muscadet. Over 6,000 shucked Hog Island oysters can't be wrong. Please help preserve a worldwide tradition. - Michael Whitehead, IntoWine Featured Writer

VINEBOX is a monthly wine-by-the-glass membership club. Members receive a curated box containing three glasses of wine from all around the world. Each shipment also contains tasting notes, pairing suggestions and some fun facts about where the wine came from. Explore new regions, learn about taste preferences, and get ready to find a few favorite wines with VINEBOX.
---------------------------------------------------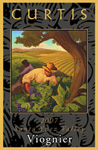 Ah the mighty but tiny oyster, often misunderstood creature from the sea. For oysters served raw or even in Rockefeller format, I like the 2007 Curtis Viognier ($22) from the Santa Ynez Valley. The acidity is there to combat a raw oyster, and tame the briny element, as well as a noticeable viscosity for a Rockefeller. The floral notes typical of viognier help to boost the sometimes meek flavors of the oyster. This 100% viognier also has a touch of oak on the back palette to aid the oysters any which way you may choose to consume them. - Michael Cervin, Wine Judge, Restaurant Critic, and IntoWine Featured Writer