Spanish red wines are popular around the world. In fact, Wines From Spain reports that 43 million people around the world say they drink Spanish wine "often," according to a recent study.
That's all fine, but how do you know which red wines from Spain are the best to try now? Should you buy a big-name Rioja wine (with an equally big price tag), a bold Toro wine or a Spanish red from a region with an unfamiliar name?
IntoWine.com asked some Spanish wine and food experts to recommend good-value red wines from Spain. Here's what they had to say:
I have traveled all over Spain in the last six years, and I find that the wines of each region have so many memorable aspects that it's hard to choose a favorite. But if I were pushed to decide, I would have to say that the red wines of Jumilla are in many ways the most memorable. It is here that the searing heat of summer, the lack of any appreciable rain, and the high altitude combine to produce wines of enormous power and depth. Prodigious hand efforts are required to coax the best from the land, and it takes all of the winemaker's art to keep the wines from becoming over-rich and lacking in acidity.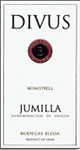 At Bodegas Bleda there is a small, ideally situated vineyard of monastrell vines that are over 45 years old. The vines are grown "en vaso" and they yield only about five pounds of grapes per vine – literally one bottle per vine. "Divus," the winery's finest wine, is produced from these vines. It is a wine of immense depth with a rich, lingering finish. Notes of blackberry, vanilla and spice are abundant in the aroma over a background of cedar and black cherry. It is a blend of 95 percent monastrell and five percent merlot and is bottled unfiltered to preserve the richest elements of fruit. It is aged for nine months in new, French oak and retails for about $25. – Howard Friedman, Calvert Woodley, Washington, DC, and Managing Director (Owner), South River Imports LLC
--------------------------------------------------

Spain has several good quality wine-producing regions. One of the oldest and well-known regions is "La Rioja," which is a small area, but is the richest in production of table wines in Spain and has gained a world-wide reputation in the past few years. The red wine production in this area includes many small wineries, but one of the most famous and widely-available wines in the USA is made by the Marqués de Cáceres winery. The Marqués de Cáceres Crianza has an intense color, is full-bodied and has hints of cherry and vanilla. It is a versatile wine that goes well with red meats, stews and rice dishes. We commonly serve it with appetizers or Spanish tapas, including Spanish chorizo and cheese, as well as fried dishes.
Many large supermarket chains carry it, as well as wine retailers and import stores such as Cost Plus World Market. Prices for the Crianza vary from $10-15, depending on the year and the retailer.
Enrique Forner founded this winery in the 1960's with the help of his friend, Professor Emile Peynaud, who had already collaborated with the Forner family in Bordeaux, France. The winery is named after the Marqués Juan Ambrosio García de Cáceres y Montemayor, an 18th-century captain in the Spanish Armada. - Lisa and Tony Sierra, Owners, Culinary Discoveries (Spanish Culinary Vacations), Woodland, CA, and About.com Guides to Spanish Food 
--------------------------------------------------

It's always a great day when I get to taste a wine made from a grape I've never heard of. This one - Prieto Picudo - comes from Tierras de Leon, located between Bierzo and Burgos, in Spain's northwest corner. I recommend Bodegas Gordonzello's Peregrino Prieto Picudo 2005 Roble.
A decade ago, Prieto Picudo was nearly extinct, but thanks to the efforts of Bodegas Gordonzello and a few others, it has been revived. Good thing, too, based on this example. Roble indicates a wine with a bit of oak aging (in this case, three months), but less than crianza.
Tasting notes: Deep, dark fruit/mineral smells and intense, concentrated flavors - not so much big as persistent and balanced. Yum. $19.00. - Mitchell Pressman, Owner, Chesapeake Wine Company , Baltimore, MD
--------------------------------------------------
My best deal in Spanish in stock right now is...2004 Bodegas LAN Rioja Reserva. It was #52 in Wine Spectator's Top 100 for 2008. Regular price is $23.00. This wine is currently on sale for $17.99. - Bob Golbahar, President, Twenty Twenty Wine Merchants, West Los Angeles, CA