IntoWine.com posed this question to a panel of wine experts: What's the one German white wine you'd recommend seeking out?
Every time I drink a bottle of Spatlese, I realize I don't experience these wines often enough.  They do it all for me and the one I'm loving at present is the 2007 Steinadler from the Mosel in Germany.  Barely tipping the scales at 9% alcohol, the gooseberry and Meyers lemon flavors are enlightened by subtle touches of quince paste and lavender honey.  All these flavors just seem to dance on your palate effortlessly but at the same time remain tied together by the wine's mineral / slate complexity in the finish.  It's a pleaser in every way and my go-to wine for spicy food pairings. - Tony Connell, Personal Wine Consultant for Montesquieu Wines
------------------------------------------------------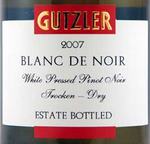 2007 Gutzler Blanc de Noir White pressed Pinot Noir. Not a Riesling! The wine is delicious and educationally interesting. The juice from the red Pinot Noir grapes is pressed out and fermented without the skins into white wine. Not an outrageously uncommon concept but still intriguing. The wine is dry and offers fresh flavors of stone fruit (white peach, apricot) and strong mineral notes of flint and wet pebbles. The wine is great by itself as a refreshing aperitif or with a wide range of seafood. Try it with sushi and oysters. - Cezar Kusik, Fine Wine Specialist, Fourcade & Hecht Wine Selections
------------------------------------------------------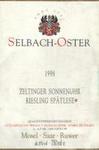 There are a lot of great wines being made in Germany, both red and white.  In my opinion, however, my favorite wines are the ones labeled Spatlese.  This is a category of ripeness that the grapes had achieved when harvested.  It loosely translates into a level of sweetness in the wine.  Spatlese wines tend to be sweet but not to the point of being a dessert wine.  They are low alcohol and work well early in a meal.  My favorite match is with a beet and goat cheese salad.  There are a lot of great producers out there and many utilize multiple vineyards.  I am going to recommend a wine that is both reasonable in price and not hard to find.  The Selbach Oster Riesling Spatlese Wehlener Sonnenuhr is a wine from one of the best vineyards in the Mosel region that almost always exceeds the vintage in terms of quality.  It can be found for around $28 and is a great wine to sip on its own or matches well with a wide variety of foods. - Loren Sonkin is an IntoWine.com Featured Contributor and the Founder/Winemaker at Sonkin Cellars
------------------------------------------------------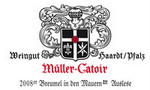 There are events in life that fix places and times into your memory – a Presidential Inauguration, the moon landing, etc. You remember exactly where you were when it happened. For me, one of those moments was my first sip of the Muller-Catoir Auslese Pfalz Riesling. I was the new sommelier at a local restaurant. The wine director wanted to serve the Auslese with the latest lobster course. "An Auslese and Lobster?" I asked. I had my doubts. I had to try it. The wine director had the kitchen prepare a bite of the lobster and poured a taste of the wine. I took a bite of the lobster. It was rich, clean, extravagant. Then, I tasted the wine. I remember the sun reflecting off the surface of the Pacific Ocean and the bright light that shone through the cypress trees, how the sounds of the kitchen went mute, the moment the wine hit my lips. The sweetness was so precisely in balance with the acidity, the clean citrus fruit, the minerality, and this very strange sensation that I had just licked a wet river stone. It was a moment in my palate's history that will live for a very long time. This is one German White worth every penny and most definitely worth seeking out. About $35 (375mL) – Ben Spencer is a diploma student with the Wine & Spirit Education Trust and an IntoWine Featured Writer.