I tend to taste and drink a lot of wine over the course of a year.  I am in a few tasting groups, sometimes the wines are consumed at various local wine store tastings and a number drunk with friends and family.  Early on, it was evident that the best way to pay attention and also to remember what wines were consumed was to write a tasting note.  Over the years, I have written well over 10,000 tasting notes probably representing 70% of the wines I have tasted.  I make no pretense about the quality of the notes, but sip by sip and bottle by bottle, the notes have gotten a bit better.  It always interesting at the end of the year to go back and review what wines were consumed and which ones I liked the best – overall and in categories.  In 2016 I wrote 1,334 tasting notes.  Thanks to computers, I can sort and select them down into various lists.  I give you these to use as you wish – suggestions, comments, and reasons to laugh or disagree.  
Caveat - I have for the most part not repeated wines that were tasted multiple times or the same wine from a different but close vintage in an effort to list more wines for those looking for suggestions.  I drink, for the most part, what my wife and I like, so did I miss out on categories or specific wines?  You bet.  There is a lot of great wine out there and one can't drink it all.  Part of the fun is seeing, over the years, how tastes change, finding new discoveries, following the development of vintages but most of all, just enjoying this special beverage. Cheers! - Loren Sonkin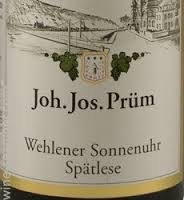 1.  2001 Joh. Jos. Prüm Wehlener Sonnenuhr Riesling Spätlese - Germany, Mosel Saar Ruwer
With the 15's resting in the cellar, it was time to look back. Great showing. Decades left in this. Lighter gold in color. The nose has a bit of petrol but not a lot at this point. Also some honey and grapefruit. On the palate, wonderful texture. Still slightly sweet but not as sweet as I remember it being on release. There is a slight spritz left that disappears quickly although all the sulfur has dissipated. The last two qualities being difficult on release. Great acidity and balance. Everything I want in a bottle of 15 year old Riesling. Glad to have more. (96 pts.)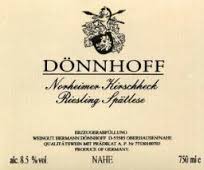 2.  2006 Dönnhoff Norheimer Kirschheck Riesling Spätlese - Germany, Nahe
Served with Thai food. Either this bottle or the one above it on the rack had been a leaker. Hard to tell as the capsule was sticky. No harm no foul though. Deep golden in color. The nose is really good with slight diesel, wet stones, sea air and slight grapefruits. Full bodied. Lovely velvety texture. On the palate, this is sweet. Certainly not cloying. Good acidity. Layers of flavors and minerality. Long finish. Just killer with Tofu Tamarind dish. Beautiful wine with years to go. For the record, looking at the cork, I don't think this was the leaker. (94 pts.)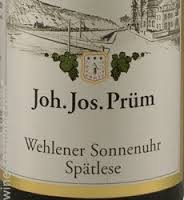 3.  2011 Joh. Jos. Prüm Wehlener Sonnenuhr Riesling Auslese - Germany, Mosel Saar Ruwer
Best food pairing of the night with the peach tart. Golden in color. The nose has peaches, tropical fruit, some simple syrup and nice minerality. Very fresh, no petrol. On the palate, great texture. Sweet but great acidity gave it great balance. Peaches and honey. Long finish. Lovely wine. Light enough at this time of the night to wake up the palate, heavy enough to hold it own and dense enough to make one pay attention. Perfect for the moment. (94 pts.)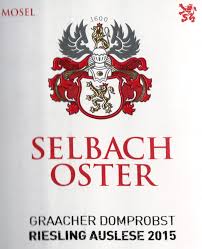 4.  2015 Selbach-Oster Graacher Domprobst Riesling Auslese - Germany, Mosel Saar Ruwer
A spectacular wine with all kinds of room for improvement. Light golden in color. The nose has peaches and apricots and slight pineapples. Also a nice mineral streak. On the palate, great acidity that cuts thru the sweetness. The sweetness is round and delicious but not cloying. It stops short of dessert sweetness although no doubt, it could work as a dessert wine. Almost seamless at this stage. It would be fun to watch it mature. $35 which for a wine of this pedigree is a good price. I have trouble figuring out when to drink these kinds of wines though. What foods? Where in the meal? A bit rich without food. (94 pts.)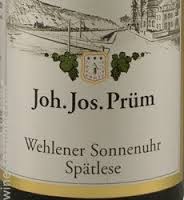 5.  2015 Joh. Jos. Prüm Wehlener Sonnenuhr Riesling Kabinett - Germany, Mosel Saar Ruwer
Wow. Pop and pour and I think the first glass was the best. Odd, but will this shut down? In any event buy more. It will get better. I liked this better than the 01 on release as it has no sulfur and is more elegant. Light golden in color. The nose is wonderful. There is a bit of a floral note to this. Also some pineapple and minerals. Finally, what I can best describe as a clean mountain air, maybe pine, quality. On the palate, this is slightly sweet but not cloying or obtuse. The wine has an elegance which I don't remember noting in prior vintages. The pineapple emerges on the mid-palate, but the minerals are there all the way. Great balance. Not powerful but certainly persistent. Nice finish. Will work with or without food. Honestly, it worked great with popcorn and a bit later while smoking a cigar. An odd combination that worked well. I have a few but they are meant to age. I may need to buy a couple more for shorter term drinking. (94 pts.)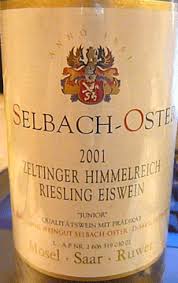 6.  2001 Selbach-Oster Zeltinger Himmelreich Riesling Auslese - Germany, Mosel Saar Ruwer
I brought this and threw it in at the end. It was tight and really needed some air or time but so it goes. Golden in color. The nose is apricots and peaches. A slight oxidized note, very slight. On the palate, great acidity. Still plenty of oranges, and apricots left. Very complex. This was from a 375 and seemed to have a long life left in it. Probably close to peak in some ways short, in some ways right there. A nice end to the tasting. (93 pts.)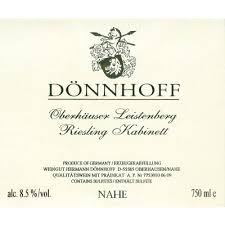 7.  2007 Dönnhoff Oberhäuser Leistenberg Riesling Kabinett - Germany, Nahe
Bottle had a slight leak to it. Just noticed it, so we popped the cork. Light golden in color. The nose is great. Possibly a bit advanced. A bit of diesel, slight pineapples and wet rocks. Viscous texture. Sweet, more like a spatlese. Nice minerality. Mature. Decent acidity. Very tasty. Bottle was drained quickly. (93 pts.)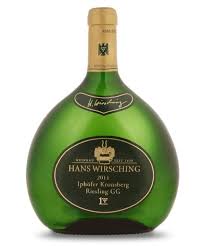 8.  2013 Weltner Rödelseer Küchenmeister "Hoheleite" Riesling Großes Gewächs - Germany, Franken
Wow, I really liked this wine. It comes in that rounded Franken shaped bottle, green glass. Screw capped. Light golden in color. The nose is a bit rounder than a typical German Riesling. It's got a nice minerality along with some citrus. Also a sort but not quite vanilla-esque note. On the palate, this is, of course, dry. The rounder take continues. It has plenty of acidity but not as crisp as more "typical" German Rieslings. That said, it is delicious with complexity and depth. 13.5% alcohol is certainly not noticeable except perhaps to give some added body. It seemed to get better all night. We saved a couple of glasses to drink tonight, so that should be illustrative. This was a Fass Selections wines. (93 pts.)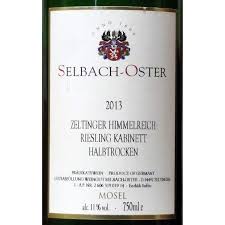 9.  2015 Selbach-Oster Zeltinger Himmelreich Riesling Kabinett halbtrocken - Germany, Mosel Saar Ruwer
Now we are talking. A veritable buzz in the crowd over this one. Light golden in color. The nose has some peach fruit, a bit of minerality, some citrus. Very nice. Ripe but only slightly sweet on the palate. An interesting mix of sugar and ripeness. It works, thanks to the acidity. Lovely streak of acidity throughout the wine. Long finish. I had the end of the bottle, so i assume it saw a lot of air. Should have decades in it, but with air, it is drinking well now. This is what I came hoping to find. $23. (92 pts.)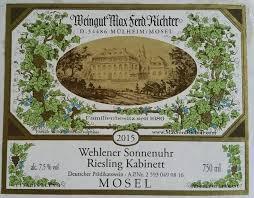 10.  2015 Weingut Max Ferd. Richter Graacher Himmelreich Riesling Kabinett - Germany, Mosel Saar Ruwer
My first time taking this out for a spin. All of the hype about how well Richter did in 2015, the only one I had was the base Riesling which I was not enthusiastic about. This one was much better. At $17, this is an amazing value. pop and pour, I thought it better later in the night and would give it some air. The nose has lemons and minerals but also an intriguing cherry note. Just a hint of sweetness, this seems to be more old style Kabinett which is great. Depth. 7.5% Alc. Great with food. Just a lovely wine that needs some time to develop.
APN 2 593 049 04 16 (91 pts.)