German Rieslings are, to put it bluntly, misunderstood wines.  German winemakers will tell you that Riesling is their country's flagship wine and that the Riesling grape works perfectly with the cooler climates and slaty soils of German river valleys.  If, however, you ask a group of non-German wine drinkers to tell you about Riesling, several of them will probably use phrases like "too sweet" and "doesn't pair well" in their descriptions.  In my opinion, they are missing out on one of the world's great wines.
I fell in love with Riesling early on, during a trip to Germany's western wine regions.  There's nothing quite like sitting near a fireplace, enjoying a perfectly-chilled glass of dry ("trocken") Riesling before sharing a meal with friends.  Riesling works wonderfully with German food – also underrated – of course, but I've discovered over time that I enjoy it with many other cuisines as well.  Best of all, it's a year-round wine, one to enjoy on crisp fall evenings or during a summer celebration.
But don't take my word for it.  IntoWine.com asked some German wine experts to recommend good-value Rieslings.  Here's what they had to say: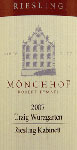 I actually have two favorites, both representing two different paths of German Riesling. The first is the 2007 Monchhof Urzig Wurzgarten Kabinett from the Mosel. The 2007 vintage was a classic vintage for Kabinett level wines in Germany. The best wines are complete and utterly charming. This wine represents the perfect marriage of a great vineyard site for Kabinett Riesling, conscientious winemaking and great value. We sell this profoundly satisfying wine for $18.99.
The second wine is a trocken (dry) Riesling from Weingut Winter in the Rheinhessen. There is a great deal of energy in the Rheinhessen these days. There are many young vintners who have come to the wine world with a new dedication and commitment to high quality. Trocken wines are all the rage in Germany and they are beginning to make their way to the U.S. The danger inherent in trocken Riesling is, if you miss getting the balance right, the wines can be painful to drink. The Weingut Winter 2007 Kalkstein Dittelsheimer trocken from the Rheinhessen is a great example of "getting it right."  Artful balance, great minerality with floral and exotic fruit notes make for a wild ride. We sell this wine for $19.99. Two wonderful choices, both under $20.00, representing the "classic" and the "modern" styles of today's German Riesling. – Mike Greene, Senior Wine Consultant, Woodland Hills Wine Company, Woodland Hills, CA
-------------------------------------------------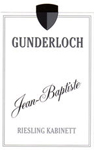 The wine I would recommend is the 2007 Gunderloch Riesling Kabinett "Jean Baptiste" from the Rheinhessen region.  This wine sells for $15.99-$17.99.  This is a Riesling which is not too sweet and not too dry, making this wine a perfect "food chameleon."  "Jean Baptiste" is an excellent choice for a large spectrum of food styles, such as spicy Asian dishes, white meat and fish preparations, salads and pastas.  

The wine's nose shows bright aromas of juicy peach, pear, raspberry and lime with a sprinkling of dried herbs. On the palate one finds grapefruit, tangerine, lime and white pepper...well-proportioned with a long mineral texture finishing with citrus tones.

For those who still think Rieslings are "too sweet," think again and try a Riesling such as this "off-dry" style Riesling from Gunderloch, by itself or with your favorite dish.  Chances are you will not be disappointed! – Jeff Marazoni, Operations Manager, Rudi Wiest Selections, San Marcos, CA
-------------------------------------------------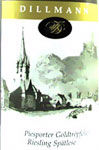 The wine world is full of little ironies, and current pairing trends for Rieslings are a great example.  We have shifted away from archetypal central-European fare (braised meats, dumplings, potatoes, bratwurst, etc.), tending now towards somewhat more nouvelle cuisine: Asian, fusion, and, in particular, sushi. The Dillmann Piesporter Michelsberg Riesling Kabinett 2006 ($12.98) has a charmingly open bouquet of stone fruit and tart pear and is remarkably dry for a Kabinett, with only 7.5% alcohol. Elegant and refreshing, it will beautifully accompany bright or spicy foods.  One suggestion: poached trout with fresh sweet bell pepper salsa.  Imagine sweet red, orange and yellow peppers with maybe a poblano for a touch of heat, finished with a fresh chives and a dash of white balsamic vinegar.  – Chris Freeze, Wine Director, 21st Amendment, Indianapolis, IN