There is a wine phenomenon every November when the cry goes out:  Beaujolais Nouveau est Arrive!  For more information about this phenomenon, go here.   
Beaujolais Nouveau is a popular wine to serve at Thanksgiving for a few reasons.  First, they are prominently displayed on the store shelves at the same time people are shopping for their Thanksgiving groceries, 2) they are affordable wines that should cost less than $15 per bottle and can often be found for under $10, and 3) they match surprisingly well with Thanksgiving Turkey, cranberries and stuffing.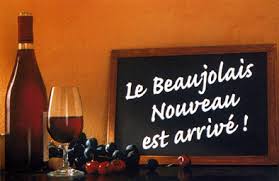 I find most Beaujolai Nouveau falls in one of two groups.  They are either fun wines or wines that I wouldn't drink.  A good Beaujolais Nouveau will have lots of cherry fruit, perhaps a bit of banana aromas and should be smooth and easy to drink.  Here are ten in the first group; wines that are fun, taste good and provide value.  There are others out there as well, but these are go-to wines for me.  One bit of caution, don't buy too many.  These should be consumed by the end of the year.  The best thing about them is their freshness.
Jean-Paul Brun Beaujolais Villages Nouveau – The Villages designation is a bit of a sign that this is an upper level wine.  It doesn't mean as much with as it would for non-Nouveau wines, but still may be a harbinger of better wines.  
Georges Duboeuf Beaujolais-Villages Nouveau – This is the man who is really responsible for the whole Beaujolais Nouveau craze.  He makes oceans of the stuff.  Again, the one with the Villages designation is probably his best. 
Carra Beaujolais-Villages Nouveau – With 30 year old vines, they have great raw material for making their Villages level Beaujolais.  A bit lighter than most, think strawberries not cherries, it is very nice. 
Jean-Paul Brun Beaujolais Nouveau Terres Dorées l'Ancien Vieilles Vignes – One the great producers of Cru Beujolais, his Nouveau is very nice and a respectable wine indeed. 
Pierre Chermette Beaujolais Noveau – Another producer who makes some fine Cru wines but also excels at the lower end of the Beaujolais scale.  
Louis Tete Beaujolais Nouveau – One of the more unheard of producers in Beaujolais.  Consistenly makes a very nice Beaujolais. 
2009 Domaine Dupeuble Beaujolais Nouveau – Their 2009 version receive 89 points and a glowing review from David Schildknecht of the Wine Advocate.  Such laurels are virtually unheard of Beaujolais Nouveau. 
JOSEPH DROUHIN Beaujolais Nouveau – One of the larger negociants in Burgundy.  They also make some very serious Beaujolais.  While this is not one of them, it is easily available and should be less than $10. 
Bouchard Aine & Fils Beaujolais Nouveau – Another very good Burgundy producer who makes this Beaujolais.  Consistent and a great value. 
MOMMESSIN Beaujolais Nouveau – Know for some excellent red Burgundies, they also have a thriving negociant business.  Their Beaujolais is sold. 
GEORGES DUBOEUF Beaujolais Nouveau – The one that started the craziness.  It's not great, but it's not bad either.  You know the wine in the flowered bottle.  Ubiquitous and reasonably priced.  Consistent from year to year.