Most Beaujolais is made and sold by large wine producers or négociants. The leading name and by far the largest of these is Georges Duboeuf.
Principal Producers of Beaujolais
Aujoux & Cie - St-Georges de Reneins
Paul Beaudet - La Chapelle-de-Guinchay
Barton & Guestier
Bouchacourt - Juliénas
Caves de Champclos - Belleville
Chanut Frères - Romanèche-Thorins
Chevalier Fils - Mâcon
David & Foillard - St-Georges de Reneins
Descombes
Joseph Drouhin
Georges Duboeuf - Romanèche-Thorins
Pour with Confidence! Since 1990 The California Wine Club has featured the best of California's small, artisan wineries.
Each month features a different winery and includes:
- Two bottles of limited production, award-winning wine
- Entertaining and informative 12 page club magazine, Uncorked
- A 100% satisfaction guarantee
- An opportunity to reorder your favorites at up to 50% off normal retail prices
$35.95 per month, plus s/h. No membership fees, no commitment.
Visit www.cawineclub.com to learn more.
Pierre Ferraud - Belleville
Jacquemont Père & Fils - La Chapelle-de-Guinchay
Gobet
Labouré-Roi
Loron & Fils
Louis Jadot
Mercier
Mommessin - Mâcon
Ph. Moreau - Mâcon
Pasquier Desvignes
Pelletier
François Pacquet
Pellerin
Piat - La Chapelle-de-Guinchay
Reine Pédauque
Robert Sarrau
Trenel & Fils - Charnay-lès-Mâcon
Georges Duboeuf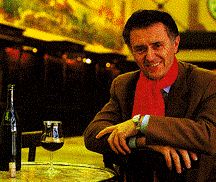 Georges Duboeuf has been called the King of Beaujolais. This is a title of appreciation as much as it is for achievement. He is, in fact, the region's largest producer, controlling more than 10 percent of the total production. But he is also the relentless promoter of Beaujolais. It would not be inaccurate to state that he has almost singlehandedly made Beaujolais Nouveau a worldwide phenomenon.
The Duboeuf family has lived in the Mâconnais (on the northern border of Beaujolais) since the the 15th century and has been involved in the wine business for over 300 years. Although Georges Duboeuf originally went to Paris to study physical education, he returned home in 1953 and began selling wine to restaurants and became a contract bottler. In 1957 he formed a group of 45 growers called the Beaujolais Casket. The venture was not to be. Three years later he branched out on his own and in 1964 formed his own négociant and bottling firm based in Romanèche-Thorins. Today, his son Franck works with him and is intimately involved in the business.
His firm offers the most wines of any in Beaujolais, at the best prices, and the most consistent style. He works with 20 cooperatives and over 400 growers. Of an annual production of 20 million bottles, over 4 million of those bottles are Beaujolais Nouveau. In fact, the Duboeuf label appears on more than 15 percent of the bottles of Beaujolais sold anywhere. Visit Georges Duboeuf.