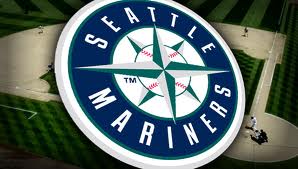 What's an appropriate wine to serve at a Seattle Mariners themed party? What wine would be a good gift for a hard core Mariners fan?
The Seattle Mariners first took the field in 1977, after the city's former baseball team, the Pilots, moved to Milwaukee.  The Mariners are owned by Nintendo of America and have the unfortunate distinction of never having played in a World Series.  Nevertheless, Mariners fans proudly stand by their team; fan loyalty is one of the team's greatest assets.
The Mariners' first years would have tested the dedication of any baseball fan; the team did not have a winning season until 1991, in spite of a roster that included such greats as Gaylord Perry, Alvin Davis, Ken Griffey, Jr., and Randy Johnson.  The team's fortunes began to turn around in the early 1990s, and the Mariners won the American League West title and their Division Series in 1995, losing the American League championship to the Cleveland Indians.
Since 1995, the Mariners have won three American League West titles, but have yet to win an American League championship.  On the positive side, the Mariners set a record for most American League games won in 1991 (116) and proudly point to their Cy Young, Golden Glove and Most Valuable Player Award winners, which include Ichiro Suzuki, Ken Griffey, Jr., Randy Johnson and Félix Hernández.  Many excellent players have worn the Mariners' navy blue and "northwest green" uniform, including Jamie Moyer, Phil Bradley, John Olerud, Alex Rodriguez, Edgar Martinez and Jay Buhner.
In spite of the team's troubles over the years, the Seattle Mariners enjoy strong fan support, particularly for "King Félix" Hernández, whose fans gather in a special section at Safeco Stadium whenever he pitches.  Hernández even has an alter ego who stars in Mariners commercials, which are known for their lighthearted approach to promoting the team.  It's all part of the fun at Safeco Stadium.
Which wine would you pour for a dedicated Mariners fan?
Seattle's maritime heritage is celebrated not only by its major league teams but also by local wineries.  There are over 740 wineries in Washington State, as of this writing, and several Seattle area winemakers have chosen to honor the city's maritime roots.
For example, Eight Bells Winery in North Seattle takes its name from the nautical clock, which strikes one bell every half hour until "eight bells," which signifies the end of a sailor's four-hour watch.  Eight Bells Winery is a small urban winery that opened in 2010; owners Tim Bates, Frank Michiels and Andy Shepherd produce only about 2,000 cases per year.  They make small batches of artisan wines from Washington and Oregon grapes; several of their blends are named for Seattle neighborhoods.  If you've always wanted to find out how urban wineries do what they do, you can volunteer at Eight Bells and help with the crush.  Eight Bells Winery 2010 Pinot Gris and 2010 Chardonnay each sell for $18 per bottle; expect to pay $32 for a bottle of 2009 Red Willow Vineyard Syrah.
FairWinds Winery in Port Townsend takes its name from the phrase "fair winds and following seas," which is the traditional farewell offered to any departing mariner.  If you're looking for a Washington wine that is a bit out of the ordinary, take a look at FairWinds Winery's offerings, which include Aligote, Lemberger, and Fireweed Mead as well as Cabernet Sauvignon and Gewurtztraminer.  FairWinds also makes a port, appropriately named Port O'Call.  Stop by the winery for a tour and wine tasting.  You'll pay $23 for a bottle of Port O'Call and $18 for a bottle of 2006 Lemberger.
Mosquito Fleet Winery, a relatively new winery located in Belfair, takes its name from the multitude of steamships that once carried people, animals and goods from place to place in Washington's Puget Sound.  The steamships are gone, replaced by roads and modern ferries, but the maritime spirit remains.  Mosquito Fleet Winery produces 800 to 1,000 cases of red wine and port per year.  The 2009 SS Dix Cabernet Sauvignon sells for about $39 per bottle, while the 2009 Meritage sells for $34 per bottle.
Although it does not feature a nautical name, Wilridge Winery is one of the most respected wineries in Seattle and the oldest in continuous operation.  Wilridge Winery's estate vineyard, on Naches Heights, west of Yakima, is a certified biodynamic and organic vineyard.  Owner and winemaker Paul Beveridge creates a wide array of wines, including Nebbiolo, Pinot Grigio, Merlot, Viognier, ice wine and and a port-style dessert wine.  Several red and white blends are also available.  If you'd like to try some Wilridge Winery wines, stop by Pike Place Market's Tasting Room Seattle or The Tasting Room Yakima, located at the Wilridge Winery vineyard.  Expect to pay about $29 per bottle for the 2007 Nebbiolo Old Vines or the 2009 Estate Semillon Ice Wine and $16 for a bottle of 2010 Pinot Grigio or 2008 Semillon Artz Vineyard.