Bartholomew Broadbent on Port, Madeira, and Great Quirky Wines from across the Globe
by Brad Prescott
He's been named as one of the "fifty most influential people in the wine world" by Decanter Magazine.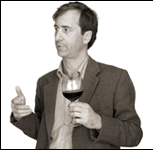 The company he founded was nominated "Importer of the Year for 2005" by Wine Enthusiast. Prior to launching his own firm, he worked for a "Who's Who" list of the world's elite wine establishments with names like Harrod's, Harvey's Fine Wine Merchants, and Christie's in London, the Rothbury Estate and Yalumba Winery in Australia, Hennessy and L'Academie du Vin in France, and Schenley in Canada, gracing his resumé. His work in Canada even resulted in the Canadian press labeling him the "Wayne Gretzky of Wine". He's widely considered to be one of the world's foremost authorities on Port and Madeira. He's also credited for the growth of North American Port consumption during the mid 1980's and was responsible for the re-introduction of Madeira to North America in 1989.
Whew!....So where exactly does one begin when interviewing Bartholomew Broadbent? I had the great fortune recently of attempting just such a feat as I chatted with Bartholomew Broadbent about Broadbent Selections, his influence in the Port and Madeira industry, and his ever-so-famous father. 
Broadbent Selections is arguably the premier importer of dessert wines in the U.S.. What are the key factors you look for in the wines you import?
When we look for wines to import we have a few absolutes: We try to make sure that the wine is the best of its type. For instance, Ferreira Port, they have undeniably the finest 20 year old Tawny of all. It is called the Ferreira Duque de Braganca 20 year. So, first thing is the quality of the wine has to be paramount. Many of the wines we import are unquestionably the greatest from their region, particularly the Chateau Musar from Lebanon, Montsarra Cava from Spain, Weinert from Argentina, Quinta do Crasto and Barca Velha, the two top wines from Portugal, Vilafonte the only world class wine from South Africa and Warwick Estate which has the highest score for any wine from South Africa by Stephen Tanzer. Even Dragon's Hollow from China is the best wine from China. Spy Valley from New Zealand is arguably one of the best wines from there but there are so many great New Zealand wines that nobody can claim the crown.
For more than 25 years, The California Wine Club founders Bruce and Pam Boring have explored all corners of California's wine country to find award-winning, handcrafted wine to share with the world. Each month, the club features a different small family winery and hand selects two of their best wines for members.
Secondly, the families we represent are incredibly important to us. We look for families with long term vision, ethics and compatability. We never deal with people who represent a bunch of wines from a region because we feel those people are out to do the best for themselves and they don't represent the families to the best of their interests, nor to our best interest. When we deal with families, most have been in the business for a long time, for instance Konstantin Guntrum is the 14th Generation of a winery that started in 1648! They have long term vision and we expect our suppliers to treat us as partners, not customers. In other words, they need to be actively involved in our marketing efforts in the US.