Wine of The Week - Cockburn's Special Reserve Port – 90 Points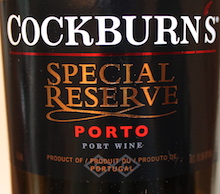 Port is often considered a wine for the holiday or the winter months, sipping it front of a fireplace. But Port belongs on a dinner table anytime of year. The Cockburn's Special Reserve is a blend of the traditional five varietals used to make most Ports: Touriga Franca, Touriga Nacional, Tinta Roritz, Tinta Barroca and Tinto Cão. It offers a nose that absolutely explodes with blueberry pie, candied cherries, ripe and rich sugared black berry, opulent huckleberry pie, black cherry compote, ripe plums and a surprising acidity and tannic structure in the background. There's a zesty-ness and brightness that fills the palate and it spent between four to six years maturing in oak. The great thing about Port is it's the one wine you can open and not worry about finishing as it can last several weeks. This terrific value Port revels in the sensory, making it a perfect sip for after dinner, before dinner and even with dinner. Serve slightly chilled to contain the fruit and get ready to bask in the sheer pleasure of how sumptuous Port can be.
Average Price: $18/ 750ML
Alcohol: 14.5%
Pair With: Grilled miso-glazed black cod; flourless chocolate cake; Venison mincemeat and apricot chutney; hearty aged cheeses.
Availability: Nationally
Website: www.Cockburns.com
For more than 25 years, The California Wine Club founders Bruce and Pam Boring have explored all corners of California's wine country to find award-winning, handcrafted wine to share with the world. Each month, the club features a different small family winery and hand selects two of their best wines for members.