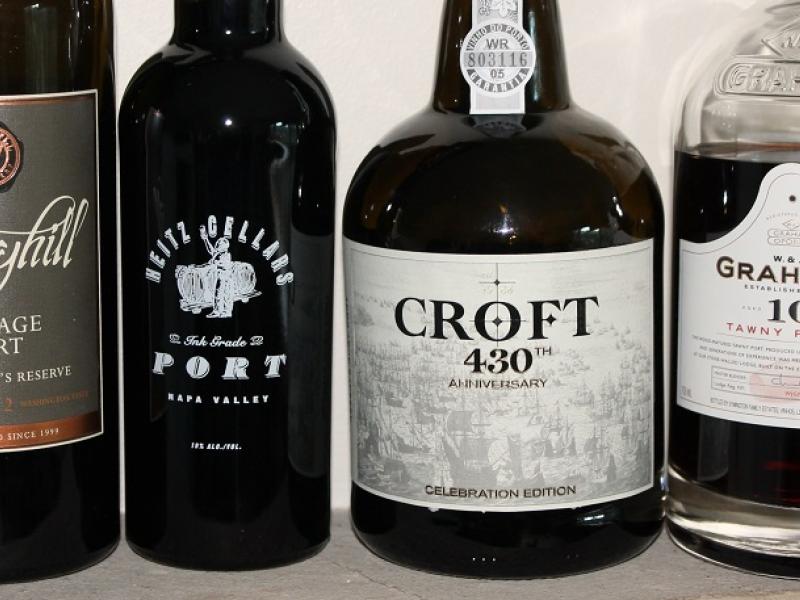 Port: It confuses most and only satisfies some. It is misunderstood; much maligned and yet offers one of the best drinking experiences on the planet.
It's easy to misconstrue Port as merely a sweet one-trick-pony. But true Port from the Douro Valley in Portugal is not a one-trick anything. Since imitation is the sincerest form of flattery, the US has their own versions of "Port." But who makes it better?  To understand true Port its important to first grasp that some of the oldest Port houses are Croft (founded 1588) and Taylor Fladgate (1692), so they have a historical and practical experience beyond anyone else in the US.
Second, there are four main styles of Port wine.
Vintage Port is aged two years before bottling. It's meant to age for years, even decades. Winemaker David Bruce Fonseca Guimaraens of Fonseca explains that Vintage Port should be very long-lived. "50 years easily. You don't really want to open Vintage Port before it's 20 years old," he says.
Ruby Port is fruitier and more supple than vintage and is intended to be consumed when it's purchased. Typically Ruby's are blends of wines from several years, meant to promote a house style.
Late-Bottled Vintage is essentially a single-vintage ruby, meant to offer some of the character of a vintage port but at a fraction of the price.
Tawny's are aged in large vats and it's racked once a year so sediment can be removed. In this process, a small percentage of the wine is lost to evaporation. Before the final blend is bottled they are topped off with both younger and older wines to balance the flavors and create a house style. Exposed to oxygen it takes on a browner "tawny" color and a nutty flavor.
"My family makes one out of every three Ports made worldwide," says Rupert Symington, of Symington Family Estates who have been part of Port production for five generations since 1882 and who are are the largest landowner in the Douro in Portugal. Their houses include Warre's (founded 1670),  Dow's (1798), Cockburn's (1815), Graham's (1820), and Quinta Do Vesuvio (1827). "We are incredibly optimistic about Port's future," Rupert tells IntoWine. "We have impeccable credentials, low production and are trying to market Port for its rarity and exclusivity, and that Port is a handcrafted wine like nothing else in the wine world." Certainly Port has a cache unlike America's versions. "Port has been used in the UK for heads of state for over 200 years, served at state banquets, and for dignitaries like President Obama, and China's President Xi, when they visited," Rupert says. "For Graham's we have done limited releases for the Queen's 90th birthday for example, but that was not about commercial marketing it was more about reminding people what Port is about – the ultimate relaxation wine." And no one would argue that point, which is why US winemakers seem to all want to try their hand at Port.
"Due to the mild winter climate and hot summers of the Columbia River Gorge it is one of the only places in Washington where three traditional Port varietals; Tinta Cao, Sousao, and Touriga Nacional are able to be grown," says Craig Leuthold, co-owner of Maryhill Winery in Washington State. "The Douro Valley is obviously very heavily sloped and terraced and as you move inland toward Spain, the weather becomes increasingly hot," says Brittany Sherwood, Winemaker at Napa's iconic Heitz Cellars, who make Ink Grade Port. "This leads to some incredibly concentrated fruit with characteristics perfect for Port, though Napa doesn't get quite as hot. I think both Portuguese and American Ports are wonderful to drink," she says. But if you ask any Port producer from Portugal, you're likely to be met with a smirk. "Napa wants to make 'Port' because they see our heritage and tradition," Symington says. "It's always been the case that we don't have the resources to compete with Napa. We simply don't produce enough wine to keep up with explosive popularity." And that left an opening for the US to try and emulate true Port.
"I've had delicious wines from the United States, particularly California and Virginia, which are referred to as "port" but nothing is truly great after aging," says Bartholomew Broadbent who came to America in 1985 to teach Americans about Port for the Symington family and set up their US division, Premium Port Wines. In 1996 he set up his own company, Broadbent Selections to continue his pioneering work on Port and Madeira, while starting his own brand, Broadbent Port, and becoming the importer for Ferreira. Decanter named Bartholomew one of the "fifty most influential people in the wine world."
For Broadabent, the two countries have fundamental differences. "The flavors can be approximated at birth but as American iterations age they lose their way. American ports are trying to replicate Porto but the terroir is unique and there are over 200 varieties used to make Port. It's impossible to replicate that with a couple of varieties," he says. However, Heitz for example uses only Portuguese varietals. "Our Port is made from traditional Portuguese varieties and ours is kind of a hybrid of Ruby and Tawny style," says Heitz's Sherwood. "Because we blend multiple vintages, we can showcase fresh, lively fruit notes from the younger Port complimented by rich, caramel characteristics of older Port. We like to ensure the sweetness is balanced with natural acidity and smooth tannins." But the Douro has Napa beat with a wide variety of grapes. "In the same way that we have field blends from old vines going into California Zinfandels, in the Douro many of our grapes are bought from farmers who have very old mixed blocks planted, and in some cases, these vineyards are as small as a back garden," Symington notes. But for the US, there are not constraints on which specific grapes must be used, therefore there is flexibility to create a Port-like expression using traditional Port grapes and other non-Port grapes. Whichever country you prefer, if you're not familiar with Port, now is the time to explore.
Maryhill 2012 Vintage Port
From Washington State's Columbia Valley comes this vintage dated Port using Tinta Cao, Touriga Nacional, Sousao, and the unlikely Tempranillo. Aged in neutral French oak for 34 months, there is racy fresh fruit like bing cherry and red raspberry notes combined with the nuanced older port notes of resin, sugared almond, black cherry and hazelnuts. ($30/750 ML)
Heitz Ink Grade Port
First made in 1994, this is a Non Vintage Port using eight traditional Portuguese varieties. Joe Heitz brought the cuttings from Portugal and had them go through the proper channels of quarantine before planting them. This offers up, black cherry, boysenberry, black raspberry along with raspberry compote, plum and candied cranberry. This is a fresh young Port aligned with a slight nuttiness. ($20/375 ML)
Grahams 10 YO
A true Tawny with an average barrel age of 10 years, this offers a bright acidity, along with notes of fig, raisin, smoked sugared almond, candied cranberry, resin, medium acidity and an earthy but lengthy finish. Comprised of Touriga Franca, Tinta Barroca, Tinto Cão, and Tinta Roriz. Grahams also offers a 20, 30 and 40-year expression, all of which show how a Tawny can mature end evolve in the bottle. ($36/750 ML)
Croft 430
Imagine a wine to celebrate 430 years in the same business. This Ruby Reserve Port offers soft, luxurious notes of black cherry, plum, sugared almond, boysenberry, seamlessly combined with cocoa powder, rose pedal, strawberry compote, cocoa powder and a uniform palate experience that is smooth and viscous. There is a richness and roundness to the wine, a lengthy finish and a hint of smoked wood. ($25/750 ML)