Wine of The Week - 2016 Vietti Roero Arneis – 91 Points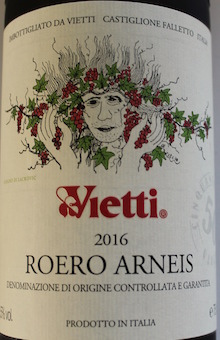 Wine geeks love oddball wines and whereas many people seek out the wines they are not familiar with, still many more stick with the traditional. Fortunately, Vietti is not only well known even though their Arneis is not, meaning you can try this wine knowing that this fifth generation producer will deliver. In fact, 2016 marks the 50th anniversary of this wine. Arneis is an Italian grape from the Piedmont region, with historical roots dating to the 1400s. Vine age is about 25 years of Vietti's plantings and the maturity of that fruit shows in the bottle. In keeping with the bright acidity of this grape, it also offers flavors and notes of honeysuckle, peach and pear, lemon-lime meringue, with back notes of toasted cashews, honeyed resin, sage, wildflowers and nearly candied celery. That might seem odd, but Arneis is an untypical grape, reflecting unique characteristics and it seamlessly bridges the gap between Chardonnay and Sauvignon Blanc with its own expressive nature. Fermented in stainless steel, it retains bright clean flavors and works well with a diversity of foods.
Average Price: $23/ 750ML
Alcohol: 13.5%
Pair With: Codfish in walnut-cilantro sauce; crab cakes with wasabi-ketchup sauce; roasted quail with raita and saffron rice.
Availability: Widely available
Website: www.vietti.com
For more than 25 years, The California Wine Club founders Bruce and Pam Boring have explored all corners of California's wine country to find award-winning, handcrafted wine to share with the world. Each month, the club features a different small family winery and hand selects two of their best wines for members.