Wine of The Week - 2014 Canvasback Grand Passage Red Mountain Cabernet Sauvignon – 91 Points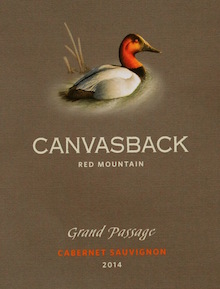 Washington State is the 2nd largest wine producer in America, after California. The wine regions here are making incredible strides and one of the most auspicious places out of the 14 AVAs in the state is Red Mountain, a sub-appellation of Yakima Valley (which is, in turn, a sub-appellation of the Columbia Valley). Its name is something of a misnomer as it's neither red nor mountainous, with elevations ranging from just 500 to 1,500 feet. Red Mountain Cabernet Sauvignons tend to be full bodied, dark, earthy and dense and Merlots can be powerfully tannic. The 2014 Canvasback Grand Passage has harnessed these two grapes (it's 20% Merlot) to craft a powerful, confident and strident wine – and this is the inaugural vintage. Aside from the bold berry flavors and noticeable oak (they used 90% new French, "because Red Mountain Cabernet has the structure and depth to handle it," says winemaker Brian Rudin), this also offers is a complex minerality and lithe acidity, a sense of rusticity, which separates this from other powerful Cabernets. There is cassis, black cherry, black berry and ripe boysenberry - all full frontal - but behind that is sweet toasted almond, sage, Bing cherry and a hint of sassafras and five spice along with typical oak notes. An unapologetic "big boy" this is nonetheless a pleasure to drink.
Average Price: $80/ 750ML
Alcohol: 14.5%
Pair With: Applewood smoked Venison roast with sautéed garlic and grilled potatoes, Ney York steak with thyme-sage gloss, traditional Swedish meatballs.
Availability: Limited, less than 200 cases.
Website: www.Canvasbackwine.com
For more than 25 years, The California Wine Club founders Bruce and Pam Boring have explored all corners of California's wine country to find award-winning, handcrafted wine to share with the world. Each month, the club features a different small family winery and hand selects two of their best wines for members.