Wine of The Week – Frank Family Vineyards 2015 Carneros Pinot Noir - 92 Points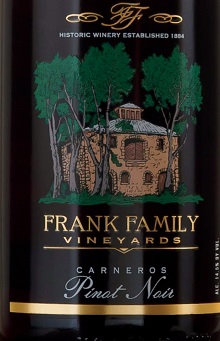 Napa's Frank Family Vineyards is better known for Cabernet Sauvignon than Pinot Noir, which might be exactly why this Pinot stands out. The grapes are sourced form Carneros, both from their own Lewis Vineyard and other Carneros sites, and were harvested between September and October. Grape clusters were de-stemmed, and the berries were cold soaked for four days in stainless steel open top fermenters, with daily punch downs. Then the grapes were moved to French oak barrels to finish fermentation. What this wine offers is a delightful spicy Pinot with a vivacious acidity, tempered with fruit that exudes strawberry, black cherry, plum, slight rhubarb and pomegranate with quiet back notes of sage, clove and earthiness. This is unusual in that the more compelling elements of minerality, acidity and spice are actually slightly more present than the fruit, turning the typical Pinot Noir experience around in a 180. What this accomplishes is that it allows a much more food-focused wine, an audacious mouth feel, and a truly expressive wine that stands out in a crowd.
Average Price: $35/ 750ML
Alcohol: 14.5%
Pair With: Herbed rack of lamb with lingonberry reduction sauce; Italian sausage and wild mushroom risotto; Pork medallions with Camembert and sage-orange glaze.
Availability: Widely Available/5,000 cases
Website: www.FrankFamilyVineyards.com
For more than 25 years, The California Wine Club founders Bruce and Pam Boring have explored all corners of California's wine country to find award-winning, handcrafted wine to share with the world. Each month, the club features a different small family winery and hand selects two of their best wines for members.