Wine of The Week – Cliff Lede Vineyards 2014 Cabernet Sauvignon Beckstoffer To Kalon Vineyard- 95 Points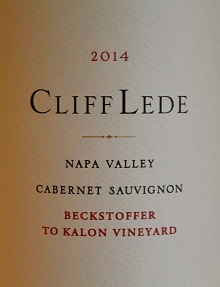 Beckstoffer is a name synonymous with exceptional Napa Valley Cabernet Sauvignon. The fruit is always highly sought-out and few producers are lucky enough to get some. Cliff Lede makes terrific Cabernet and so they know intrinsically how to treat highly prized To Kalon fruit. And this is clearly evidenced in their 2014 Cabernet. After harvest the Cabernet the grapes were cold soaked for nearly a week, fermented, and then underwent extended maceration lasting up to six weeks. This allowed the tannins to more fully integrate into the juice. French oak barrels (62% new oak) then balanced it out. This beautiful, dense and thick wine presents surprisingly vivid fruit while maintaining indisputable Cabernet flavors. This offers rich black cherry, blackberry, blueberry and side notes of raspberry, vanilla, and sweet oak with back notes of sage, mint, thyme and a wisp of anise. The acidity is bright, fresh and lingering, and the tannins are medium offering structure and poise to this wine. It is, in the best sense, New World Cabernet, drinkable now or willing to lay down for several years. But enjoyment of this wine is suited to now so its fresh, vibrant core can resonate on your palate.
Average Price: $185/ 750ML
Alcohol: 14.8%
Pair With: Red currant and rosemary grilled lamb shanks; Roasted quail stuffed with wild rice, sage and apples; Shitake mushroom risotto with fresh peas and thyme.
Availability: Limited/619 cases
Website: www.CliffLedeVineyards.com
For more than 25 years, The California Wine Club founders Bruce and Pam Boring have explored all corners of California's wine country to find award-winning, handcrafted wine to share with the world. Each month, the club features a different small family winery and hand selects two of their best wines for members.