Wine Tasting Etiquette: Stop, Drop & Roll
Part One: The Tasting Room
This three part series will explore wine tasting etiquette from the tasting room to the barrel room to the living room. Don't be that guy who asks if they can drink the contents of the dump bucket or makes inappropriate jokes about the bung hole. Taste like a pro and be proud of it. You don't have to be the sommelier of The French Laundry to taste like the experts. Learn your way around a wine glass in three easy steps: stop, drop and roll.
Stop: Reading Reviews and Start Tasting
Tasting makes perfect. The best way to learn about wine is to drink and drink lots of it. Develop your own vocabulary and scribble down notes on what you see, smell and taste. Soon, you will begin tasting repetitive qualities and recognize true varietal characteristics. And by all means, trust your own palette. You are the master of your own mouth!

Every tasting room experience is different and ranges from the boutique, off the map winery to the big guns of Napa scattered along Highway 29. I have a few ubiquitous reminders and expectations to keep in mind as you explore your chosen wine country.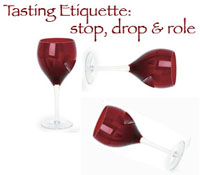 Usually, there is a greeter and someone who will explain the ins and outs of their tasting room including what wines are open for tasting. Pricings for tasting vary from free to upwards of $45 dollars. Tip: plan ahead and check out the websites of the wineries your planning on visiting. You can find information such as tasting notes on the current releases, awards and upcoming events. And if you want a more intimate and organized experience, make an appointment. Also, ask your eagerly anticipated winery host to offer suggestions as to their favorite places to visit. You'd be surprised at how many "unknown" producers can be discovered through word of mouth.


Tags: