Wine To Go Buy This Week - 2015 Georges Duboeuf Macon-Villages Chardonnay – 89 Points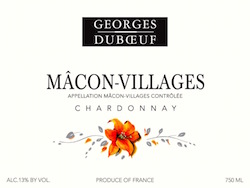 White Burgundy derives much of its substance from its limestone soils as well as limited interaction with oak; therefore it is a heralded example of how clear and precise Chardonnay can be. The 2015 continues this traditional with a light and crisp style in their Macon-Villages. Floral and piquant, this Chardonnay lifts the palate with lemon meringue, lime kefir, honey, resin, quince and notes of tropical fruits with a potent acidity; perfect as a food wine. The mid palette gets the most attention as the wine releases much of its flavors and acids here, but the finish, which is a little sharper, allows for a great elongated expression of this wine. This is what you want in white Burgundy, an unpretentious yet substantive wine that is clearly defined by its place of origin.
Average Price: $20/ 750ML
Alcohol: 13%
Pair With: Vermont cheddar cheese, garlic and Gruyere sausages, shrimp scampi, Cobb salad.
Availability: Nationally
Website: www.duboeuf.com
For more than 25 years, The California Wine Club founders Bruce and Pam Boring have explored all corners of California's wine country to find award-winning, handcrafted wine to share with the world. Each month, the club features a different small family winery and hand selects two of their best wines for members.