Wine To Go Buy This Week - 2014 Markham Vineyards Charbono – 90 Points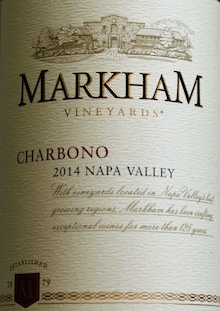 Markham is better known for Merlot, Cabernet Sauvignon, even Chardonnay, but Charbono? You may rightly ask…what is Charbono? It is believed that Italian immigrants came to Napa during the California Gold rush and brought Charbono cuttings with them. In Argentina its called Bondara, but it is assumed the grape is actually native to France, not Italy. These particular vines were planted in the 1970s and are dry farmed. Comprised of 86% Charbono and 14% Petite Sirah, there is a moderate tangy acidity and tannin level, with bright fruit. Fermented in stainless steel then aged for 14 months in 55% new French oak is the correct recipe, as Charbono needs some hand holding to bring out its sweet plum, fig and apricot notes. This iteration also offers black cherry, boysenberry, and a palpable earthiness. It's easy to look at an obscure grape like Charbono and praise it for its uniqueness, but what Markham does is actually treat it right. Thus it's not only an odd-ball, fun, distinctive wine, but a well made one at that.
Average Price: $38/ 750ML
Alcohol: 13.5%
Pair With: Pork tenderloin with Camembert and sage; smoked salmon with mushroom demi-glace; traditional roasted Thanksgiving turkey.
Availability: Limited, only 375 cases
Website: www.markhamvineyards.com
For more than 25 years, The California Wine Club founders Bruce and Pam Boring have explored all corners of California's wine country to find award-winning, handcrafted wine to share with the world. Each month, the club features a different small family winery and hand selects two of their best wines for members.