Wine To Go Buy This Week - 2014 Byron Monument Pinot Noir – 93 Points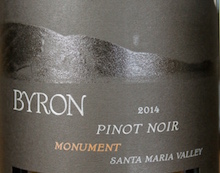 Santa Barbara's Byron Winery started in 1984 located on the Santa Maria Valley Bench above the erratic Santa Maria River. Using diverse clones, this "cellar blend" as winemaker Jonathan Nagy calls it, utilizes clones 2A, Swan, Pommard, and Benedict Selection to create a vibrant expression of a multi-layered Pinot Noir. All the fruit comes from the Santa Maria Valley and in fact all Byron Pinot Noirs are now single Vineyard designates. This wine introduces plum, black cherry, boysenberry, blackberry and an intriguing rusticity with a subtle but present acidity. It lingers on the palate like a conversation with an old friend, revealing deep layers of itself as time progresses. Barrel fermented and aged in 100% new French Oak it straddles between Old and New World iterations. "This is a Pinot Noir for people who love Pinot - there are so many cool nuances to it," Nagy confirms. Just 390 cases made.
Average Price: $60/ 750ML
Alcohol: 13.3%
Pair With: Pan sautéed pork over truffle oil arugula; breaded veal scaloppine with mushroom sauce; dandelion and endive salad with bacon and Dijon mustard.
Availability: Very Limited
Website: www.byronwines.com
For more than 25 years, The California Wine Club founders Bruce and Pam Boring have explored all corners of California's wine country to find award-winning, handcrafted wine to share with the world. Each month, the club features a different small family winery and hand selects two of their best wines for members.