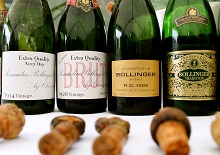 In 2010 an intern at Champagne Bollinger, located in Aÿ, France, was tasked with cataloging some of the three-quarters of a million bottles housed in their underground cellars. What he stumbled upon was nothing short of staggering.
Bollinger began restoration of some of their older vintages as early as 1969 according to Commercial Director Guy de Rivoire. "For most of the bottles it is taking the bottle, opening them, changing the cork, putting on new wire, essentially protecting them, letting them continue on with their life," he tells IntoWine. In 2010 an intern was searching for older vintages and down one of the long tunnels was a small room to his right, one of many small rooms to the right and left dotted throughout the nearly three and a half miles of tunnels. Entering that room was a smaller room immediately to his left. That small room, which I now stand in, was crammed full of dozens of racks of bottles and as these were pulled out there were small compartments, about waist high, closed with small arched wood doors. "The entrance was blocked by walls of 600 empty bottles and magnums," de Rivoire says. Once the racks were cleared away there were bottles - dozens and dozens of them, full of Champagne, no labels, just codes. Initially, no one knew what they were or why they were here. 
"No one at Bollinger, nobody of the parents of the employees - because we have several generations working here - no shareholders knew of the existence of these bottles so we don't know when they were put there. There were marks indicating the end of the 19th, beginning of the 20th Century so we think they might have been stored there between the two World Wars." Marked with a code, CB 14, they were able to decipher they were from the foundation of Bollinger - these were their very first Champagnes. But what does a Champagne house do with 180-year-old bottles? They had already developed three initiatives back in 1969 - archive, restoration and presentation, and with that, a subterranean gallery was born in order to showcase Bollinger history known as Galerie 1829. Of the original 54 bottles found from 1830 only 13 remained in stable condition and are now on display - the others were in such poor condition they could not be saved. 
The part gallery/part museum holds more than just Champagne from 1830. There are 65 distinct vintages showcased here, a total of 7,330 bottles, magnums and jeroboams and 4,000 of those were restored. Galerie 1829 itself is dimly lit; amber tones emanating underneath black lacquered cases and racks; shadows and hues, light and dark playing against wine bottles. The sound of our shoes echo out from the stone floor and it's all very sleek. At the end of this tunnel is the prize of Bollinger's possessions - 13 bottles from 1830. A visit is only for the few, as it's not open to the public and there are no tastings of any of the historic vintages. To help cement the exclusivity, Bollinger auctioned off a bottle of the 1914 vintage combined with a visit to the estate, which went for $10,00 at Sotheby's New York in 2016. I was fortunate enough to not pay that amount and to visit Bollinger and taste through several older vintages including 1992, 1975, 1973 (in jeroboam, magnum and bottle), 1964, 1955, 1928 and the prized 1914. 
Tasting Notes of Select Vintages
1973: Comprised of 70% Pinot Noir and 30% Chardonnay from mainly eight different vineyards, this was served at Lady Diana's wedding. Harvest and bud break were normal, though hail occurred early May. Classic nose with light tart expression, bright acidity, green apple, baked brie with back notes of honey and stone. Disgorged late 2012 
1955: An even growing season lead to an early October harvest. Disgorged in 1967 this is  lush and full, nearly perfume-like. The palate is filled with sweet meringue, resin, and a tartness grips the finish and a bright acidity. Sweeter in style (13 grams of sugar), yet wonderfully drinkable and smooth. 
1928: The average harvest date of this vintage was September 28. A few frosts were recorded in May but that was tempered by a long harvest. 12 grams per liter of residual sugar are in this, there's a similar style to Sauternes, but with smoked apple wood oak, sweet butterscotch, honeyed notes and the acidity and comprehensive quality of the wine is still evident. 
1914: Made primarily of Bouzy Pinot Noir, records indicated that harvest was late September after a long uninterrupted growing season. This is lighter in style but more viscous, aged on the lees, no ML, still very drinkable. The acidity has waned and the structure is slightly compromised, nonetheless this 103-year-old Champagne is still delightful.