In 1855, the Exposition Universelle was held in Paris to showcase all that was good in France.  Emperor Napoleon III requested the leading Bordeaux merchants to rank the best wines.  The top wines were rated as First Growths.  Over the years, many people in the rest of the world have discussed what wines from their country would be First Growths.  I am often asked what I think the First Growths of California are.  It is an interesting conversation with lots of room for debate.
To make the process more manageable, this article will attempt to look at wines that are similar to the original listing.  That is, predominantly Cabernet based wines.  While, yes, there was also a classification of sauternes done at the time, we will ignore the dessert wine genre for now as well.  While there are undoubtedly great wines based from other varietals, those were the wines that were included in the original classification.  Other varietals will have to wait for future articles. 
The original classification included only four wines as a First growth.  Later a fifth was elevated.  The standard at the time was mostly based on price although having a reasonable track record seems to have also been a consideration.  While price is not always indicative in quality, charging a high price and getting it over a long period of time does indicate something about the public's level of acceptance.  Likewise, there are some amazing Cabernets being made in California, but for purposes of this list a minimum of twenty years of production is required to make the list.  So, without any further ado, here are the Cabernet Sauvignon based wines I believe merit First Growth status that are made in California. 
Shafer Hillside Select.  To me, this is the Chateau Lafite of California.  Shafer has been making

Hillside Select since the late 1970's.  The first years were very good.  Like most Napa wines, there has been a bit of a stylistic shift over the decades and many still like those early wines better.  For my tastes, starting in the 90's and continuing on, Shafer has really kicked their wines up a notch.  Consistently, one of the top wines of any vintage, Shafer almost seems to excel even more in the weaker vintages.  Made from 100% Cabernet Sauvignon, they produce about 2,500 cases a year.  This is about as pedigreed as it gets in California.  Typically about $250 on release. 
Screaming Eagle.  Doubtless some will claim this wine does not have enough of a track record.  Yet,time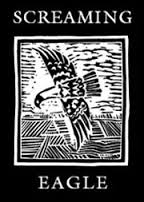 flies.  From its debut in 1992, this wine has always been a target for wine collectors around the world.  Less than 1000 cases of this wine are produced each year.  It is a blend of about 80% Cabernet Sauvignon with Merlot and Cabernet Franc.  Despite changes in ownership and winemakers, this wine keeps rolling along.  It has practically defined what a "cult" wine is in California.  The last vintage release prices were $850 a bottle and the aftermarket pricing was almost immediately double that.  As far as drinking it, and some people actually drink the wine, I would compare it to Chateau Margaux of the First Growths.  It is not a huge wine.  Rather it has a femininity and elegance to it. 
Ridge Monte Bello.  The original 1855 classification contained mostly wines from the Medoc,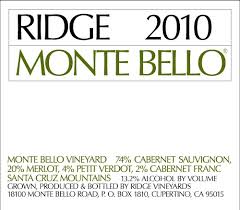 Bordeaux. Likewise, this list contains mostly wines from Napa, California.  Yet, the original list had one wine from Graves, Haut Brion.  Haut Brion had a long track record from an area close by but still distinct.  Ridge Monte Bello is from an area south of San Francisco called Santa Cruz.  Ridge has been making Monte Bello since the 1960's.  It is a blend of 70 to 80% Cabernet Sauvignon with merlot and often Cabernet Franc and Petite Verdot blended in.  These wines tend to be a bit different than the others on this list.  They use American Oak, not French.  Unlike many Napa wines, these wines need time to really develop and show their stuff.  They tend to be lower in alcohol.  Like the others though, they are heavily sought after.  This is the bargain on the list as its release price is about $130. 
Harlan Estate Proprietary Red Wine – Another of the so called "cult" wines, this wine has beenproduced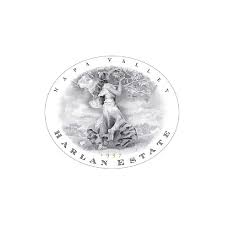 since 1991, so it makes the list.  Continuing the comparison to the original list, this would be Chateau Latour.  This wine is the project of Bill Harlan who spared no expense or attention to detail in making this wine.  I have heard more than a few people whose palates I respect state that the single best California wine that they have ever had is the 1994 Harlan.  Sadly, I have not had that vintage of this wine, but I have had enough other vintages that I have no doubt this a Frist Growth caliber wine.  It is a big wine that tastes delicious on release.  Like Latour, it really needs some time in the cellar to develop.  These are wines that can last decades.  $750 on release, this also sells for a much higher amount in the aftermarket. 
The original 1855 classification did not list Chateau Mouton Rothschild.  Giving the organizers the benefit of the doubt, that was because it lacked a track record as it had recently come under new ownership.  Eventually, after years of lobbying, Chateau Mouton Rothschild was elevated to a First Growth in 1973.  With that in mind, here is a fifth wine that I think is producing Frist Growth quality wines and presuming it continues, should be on the list.
Kapcsandy Winery Cabernet Sauvignon (Grand Vin) State Lane Vineyard.  The name has changed a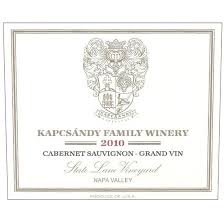 bit since the first vintage in 2003 and the quality has only gotten better.  These are amazing and beautiful wines that are among my favorites anywhere.  The wines are in some ways a throwback to the older style California wines.  They don't have the 11% alcohol levels of forty years ago, but they are also not as aggressive as many of the wines today.  Lou Kapcsandy is a former contractor and he approaches running a winery with that mindset.  Problems are a challenge and a chance to improve.  The floors in this winery are cleaner than most hospitals.  No detail is too small.  The results speak for themselves.  I believe production is around 500 cases per year.  This is a wine that demands ageing.  It drinks as much like Bordeaux as a wine from Napa can.  Release price is now around $350.  Kapcsandy also makes an amazing Merlot that rivals any made anywhere in the world, but that is for another time.
It is true that these are expensive wines.  If you can afford it, however, it is worth buying a bottle and drinking it with friends.  That doesn't mean there are no other great wines being made in California.  Just like in the 1855 Classification, there are great wines that can be considered second thru fifth growths.  Future articles will explore those wines as well.