We're sorry, this video is not available rnow. Please check back later.
In this episode of IntoWineTV, host Lisa Kolenda and wine experts Bartholomew Broadbent, Cezar Kusik, and Rob Renteria convene at one of San Francisco's finest restaurants, Incanto, to taste and discuss Super Tuscan wines.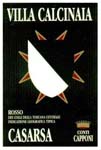 Wine: Villa Calcinaia Casarsa, 2004 ($50)

Find Villa Calcinaia Casarsa, 2004
Region: Tuscany
Alcohol: 14%
Varietals: 100% Merlot
- Upcoming IntoWineTV Video Themes
- Wine producers and distributors: Find out how to get your wines included in our next session. More info...

Background: Family dates to 1200's. They were bankers & traders who acquired incredible wealth, then became winemakers. In 1400's Capponis were largest landowners in Tuscany. What differentiates Villa Calcinaia: Wine for aristocrats, "people in the know". They don't care to be popular and for everyone. Their label/brand was created in 60's. The Capponi home and family art collection was featured in the book and movie Hannibal. Thomas Harris, author of Hannibal, inquired about writing the family into the book. The Capponis had family meeting and approved as long as "they weren't the main course." So Hollywood came and filmed for three days. In the book, Hannibal was curator of their family art + archives. The movie made chianti memorable but in the book it was amarone, because it's a better pairing with liver (Hollywood changed it to Chianti b/c back in 1991 amarone was not as well known). Casarsa takes name from one of the cottages on the estate bought in 1641. Ideal with more fatty/salty foods like duck.
Experts:
Bartholomew Broadbent, CEO of Broadbent Selections. Bartholomew was named as one of the "fifty most influential people in the wine world" by Decanter Magazine. He is also widely considered to be one of the world's foremost authorities on Port and Madeira. Learn more about Bartholomew Broadbent.
Cezar Kusik, Fine Wine Specialist, Fourcade & Hecht Wine Selections.
Rob Renteria, Wine Director at Napa Valley's Martini House.
Location: Incanto Italian Restaurant & Wine Bar.  Situated in the heart of one of San Francisco's most charming residential neighborhoods, Incanto's rustic Italian setting, with its handcrafted stone, antique brick and woodwork, 16th century Latin parchments, and private dining room dedicated to poet Dante Alighieri, provides a uniquely warm and inviting dining environment.
Incanto's daily-changing menu honors old-world traditions including house-cured meats, unusual regional pastas, fresh local seafood and a commitment to sustainably grown and harvested produce. Incanto's award-winning wine program features one of the most diverse Italian wine lists in the United States and an ever-changing lineup of more than twenty wines by the glass, half-glass, half-liter, and flight.