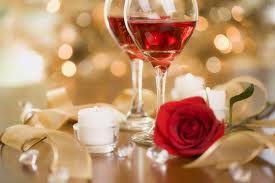 Knowing how to cook pays off well throughout the year, but biggest win may come on Valentines day.  First you get to avoid, expensive, overcrowded restaurants that frankly "dumb down" the food for the night, and second (and perhaps more important) you get the chance "to be excellent" in front of women.  Of course the recipes and wines below can just as easily and expertly be prepared by the female cooks out there, but let's face, it's the guys that really need to step up on Valentines day.  These are a few of my favorites as the food and wines are great, they are easy to prepare, and they are sure to impress.  Hope you enjoy them! 
Zucchini Carpaccio with Sauvignon Blanc
Skill Level: Easy
Cook Time: 20 minutes
Key Tip: Slice the zucchini as thin as possible
For two portions, slice about 40 very thin (it's important to get them near paper thin) rounds from a zucchini, and lay them down on two plates (20 rounds each) in a square shape with each round slightly overlapping.  Season the rounds with salt and pepper.  Drizzle about a tablespoon of olive oil, and about half a tablespoon of lemon juice over each plate.  Grate a bit of parmesan cheese over each plate.  Finally, spread about a tablespoon of toasted pine nuts and 8 – 12 leaves of tarragon over each plate and serve it up!  Try serving with a class of chilled Sauvignon Blanc, I really like Kim Crawford from New Zealand.  The wine is grassy, light, and refreshing and will be a perfect match with the zucchini and the bite from the lemon.  Head here to watch a video of how to make Zucchini Carpaccio.  
Sesame Crusted Halibut with Chardonnay
Skill Level: Medium
Cook Time: 35 minutes
Key Tip: A thinner piece of fish will be easier to cook to the right doneness
This halibut recipe is visually stunning and absolutely delicious. For two portions, buy two 8 – 10 oz halibut filets, and allow them to come up to room temperature.  Season both sides with salt and pepper.  On a plate, poor out about 3 – 4 tablespoons of black sesame seeds, and then lay one side of each fish filet in the sesame seeds to coat one side.  Heat a skillet over high heat, and add enough olive oil to coat the pan.  Lay the fish, sesame seeds down first, into the pan, and allow the fish to sear for 3 – 4 minutes.  Gently turn the fish over, and sear on the other side for 3 – 4 minutes, until just cooked through.  Serve with a mango salsa, made with diced mango, 1/4 of a red onion, 2 tblsp cilantro, and lime juice.  Serve this halibut with a California Chardonnay (Cakebread's is wonderful) that is medium to full bodied, with some floral notes, and you're going to love it.  Watch a video of how to make Sesame Crusted Halibut.
Wild Mushroom Pizza with Chianti
Skill Level: Easy
Cook Time: 50 minutes – but all casual time
Key Tip: Buy the dough for the crust from a local pizza shop
For a more casual/fun Valentines day recipe, try this wild mushroom pizza.  The key (and a bit of a cheat) is to buy the pizza dough from a local pizza shop. They have great quality and will be more than willing to sell it to you raw.  To make the sauce, simmer a 16 oz can of tomato sauce, with a diced shallot, garlic, a teaspoon of oregano, and 3 tablespoons parmesan cheese for about 30 minutes (you can make ahead).  Saute the mushrooms until they are tender, with browned edges, and set aside.  Stretch out the dough, and slather on a thin layer of the sauce, top with shredded mozzarella cheese, and then the wild mushrooms.  Bake in a hot 450+ degree oven, on the heaviest sheet pan (or pizza stone) you have for about 15 minutes – until the crust is crispy and the cheese is just starting to brown.  Let the pizza cool for a few minutes and serve it up (for extra credit cut the dough in a heart shape).  I love to serve a simple Chianti with pizza.  Chianti is made from the Sangiovese grape which seems to have a natural affinity with tomato, and you're going to love the pairing. Watch a video of how to make the pizza here.
Filet Mignon with Taragon Butter
Skill Level: Medium
Cook Time: 30 minutes
Key Tip: Use a very hot pan, and don't cut into the meat to test doneness
Filet Mignon may be the king of steaks and if you want to go over the top, this steak, paired with a full bodied, unctuous California Cab is the ultimate in decadence. Combine 3 tablespoons of butter with a tablespoon of finely chopped tarragon.  Set the mixture aside is cool part of the kitchen (not the fridge).  Allow the filet to come up to room temperature and season both sides generously with salt and pepper.  Preheat your oven to 400 degrees, and bring a sauté pan up to high temperature on the stove top.  Add some olive oil to coat (the oil should just start to smoke) and add the filet mignon.  Allow to sear for 3 – 4 minutes on that side, then flip, and move the whole pan into the oven.  Cook for another 3 – 4 minutes for medium rare, or longer for greater doneness.  Remove the steaks from the oven, and immediately slather half the tarragon butter on each.  Allow to rest for 3 – 5 minutes, the butter will melt into the meat.  Serve them up with a glass of rich California Cabernet for the perfect pairing.  I really love Chimney Rock from Stags Leaps.  It's not a cheap option, but it's worth every penny.  Watch a video of how to make the filet here.
Heart Shaped Scallops with Champagne
Skill Level: Easy
Cook Time: 20 minutes
Key Tip: Cook the scallops for just a few minutes over very high heat; make sure to season well
This recipe does risk being a bit cheesy, but frankly, I'm not sure you can be too cheesy on Valentines day.  While these heart shaped scallops are absolutely delicious, the real payoff is in the presentation, and the creativity you show.  To make the scallops heart shaped, think about the scallop as a clock face.  Cut a V shape from the 11 o'clock to the 1 o'clock position.  And then trim a bit of the sides from the 9 to 6 position and the 3 to 6 position.  Make a quick sauce from a diced tomato, a tablespoon of chopped basil, mixed with olive oil, and a drizzle of balsamic vinegar.  Season the scallops with salt and pepper on both sides.  Bring a non-stick pan up to high temperature, and add olive oil to coat the bottom.  Lay the scallops down in the pan, and sear for about a minute, until browned on that side.  Flip them over, and cook for another minute.  Plate the scallops with the side you first cooked, face up, and drizzle the sauce around the plate.  I like to serve this dish as an appetizer (2 scallops each), with what else but Champagne.  Champagne is a perfect match with this savory, and delicious expression of love!  And she'll really love it.  Watch a video of how to make the scallops here.