In this episode of IntoWineTV, host Lisa Kolenda and wine experts Edward Ruiz, Cezar Kusik, and Bartholomew Broadbent convene at one of San Francisco's finest restaurants, Incanto, to taste and discuss Italian Whites.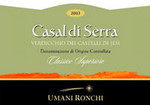 Theme: Italian Whites
Wines: Umani Ronchi Verdicchio "Exclamation" 2008 (Le Marche):  $11.99, and Umani Ronchi Verdicchio "Casal di Serra" 2007 (Le Marche):  $18.99
Find Umani Ronchi "Exclamation"
Find Umani Ronchi "Casal di Serra"
Varietal: "Exclamation" 100% Verdicchio (estate bottled), "Casal di Serra" 100% Verdicchio (single vineyard)
Alcohol: "Exclamation" 12.5%, "Casal di Serra" 14%
- Upcoming IntoWineTV Video Themes
- Wine producers and distributors: Find out how to get your wines included in our next session. More info...
"Exclamation" Wine Notes: After being softly pressed, the must ferments for 15 days at controlled temperature. The wine is then kept in stainless steel vats up to the time of its bottling. Wine is straw yellow color. the bouquet is fresh, fragrant, and delicate. On the palate it is dry, with notes of almond, and the typical acidic finish of Verdicchio. Accompaniment: Excellent as an aperitif, but also with seafood and delicate cheeses             

"Casal di Serra" Wine Notes: A "Tre Bicchieri" winner from the Gambero Rosso, the most prestigious award in Italy. The grape yield of this vineyard is less than one half of the typical Verdicchio yield. When slightly over ripe the grapes are hand picked and then carefully selected. Fermentation in temperature controlled stainless steel vats, followed by malolactic fermentation. About 5% of barrique-aged Verdicchio is blended into the finished product. Intense and vivid, similar in texture to a fine Chardonnay, ripe and tropical fruit nose, ideal with fish dishes. Accompaniment: fish dishes, chicken, light, creamy pastas.
Experts:
Edward Ruiz, Wine Director at San Francisco's Incanto Restaurant. 
Cezar Kusik, Fine Wine Specialist, Fourcade & Hecht Wine Selections.
Bartholomew Broadbent, CEO of Broadbent Selections. Bartholomew was named as one of the "fifty most influential people in the wine world" by Decanter Magazine. He is also widely considered to be one of the world's foremost authorities on Port and Madeira. Learn more about Bartholomew Broadbent.
Location: Incanto Italian Restaurant & Wine Bar, Situated in the heart of one of San Francisco's most charming residential neighborhoods, Incanto's rustic Italian setting, with its handcrafted stone, antique brick and woodwork, 16th century Latin parchments, and private dining room dedicated to poet Dante Alighieri, provides a uniquely warm and inviting dining environment.
Incanto's daily-changing menu honors old-world traditions including house-cured meats, unusual regional pastas, fresh local seafood and a commitment to sustainably grown and harvested produce. Incanto's award-winning wine program features one of the most diverse Italian wine lists in the United States and an ever-changing lineup of more than twenty wines by the glass, half-glass, half-liter, and flight.