Sicily: The Promise and Potential of Wines from Mount Etna – Part Two
This is the second article (Part one is here) in an investigative series on Sicilian wines. Part Three of this series will be a focus on the Sicilian palate, foods and wines from the southern most region of Italy.
My wife's cousin, Fabio, navigates the winding roads up the east side of Mount Etna as naturally as the breeze follows the Sicilian coastline. We are en route to the small mountain town of Randazzo where Fabio's friend is the winemaker at a winery called Gurrida. Over the course of an hour, we have passed thousands of acres of vineyards and citrus groves and several ancient villages carved (literally) out of lava.
Fabio says his friend makes wine "the old way."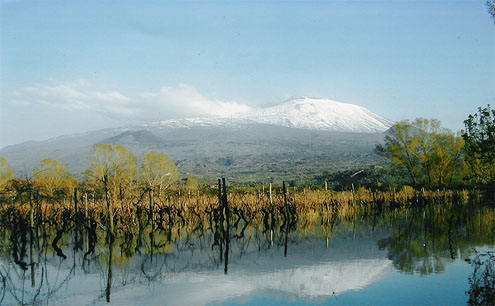 When I ask him what that means exactly, Fabio replies. "I will let him tell you. It is probably better." Fabio is a computer specialist, not an agrarian.
Looking down from the shoulders of Mount Etna National Park, the sunlight reflecting off of the Ionian Sea is subordinately blinding. A warm afternoon wind is gently nudging the miles of vineyards and citrus groves that frame the smoking volcano.
For more than 25 years, The California Wine Club founders Bruce and Pam Boring have explored all corners of California's wine country to find award-winning, handcrafted wine to share with the world. Each month, the club features a different small family winery and hand selects two of their best wines for members.
That's when it hits me, a heat of the kind you experience when opening a hot oven. Suddenly, it is very, very hot.
Tags: