Sicily: The New Darling of Wine Culture – Part One
This is the first of an investigative series on Sicilian wines. Part Two of this series will be a focus on the young, dominating wine industry of the Etna DOC (Denominazione di Origine Controllata) on east coast of Sicily, on and around Mount Etna.

For most people, the Mediterranean peninsula of Italy conjures metaphors and sensations of gastronomic ecstasy and high culture. The foods and wines are like its history, sated with drama and prudence. From its politics to its geography, the nation is connected by its diversities of culture, and no where are differences more frequently and poignantly in play than the southern region of Sicily.
Set just southwest of the "toe" of Italy is the island of Sicily, a triangular shaped land mass formed largely by volcanic eruptions that formed Mount Etna – Europe's most active volcano. The topography of the island is sparse, composed of cities and scrubland and coastal vistas saturated in sunlight.
It is a poor place, far from the economic impulses of Milan and Rome, and the quality of the region's wine industry has suffered for it. Throughout the twentieth century, Sicilian wines were co-opted by the north as blending components for gigantic wine houses that pump out good, but sometimes generic, red and white wines.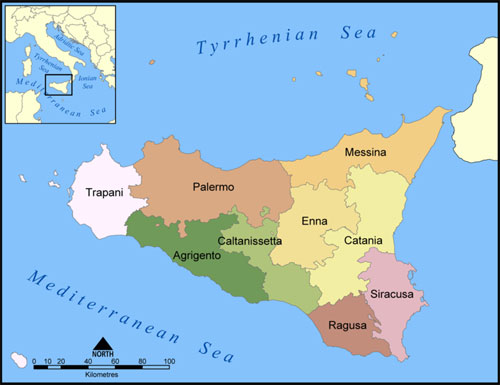 Today, Sicily is experiencing a re-emergence of wine culture that has earned it a reputation as the new darling territory for interesting wines from both well-established varieties as well as forgotten and undiscovered varieties.
Largely because of its weather (no rain after February, hot, dry, windy) and its soil conditions, grapes ripen without much trouble. The island can be a powerhouse when it comes to the amount of wine it makes – it is often the most productive region of Italy.
Now, thanks to a few producers who have been spurred to improve their own wines for a more international palate and gastronomic tourism, vineyards that once produced (literally) boat loads of wine are evolving.
Tags: