Giacomo d'Alessandro is the founder and owner of the d'Alessandro Winery, located near Agrigento in Sicily. Though the winery's lands and vineyards have been in the family since 1820, only in 2006 did Giacomo open the family winery.
His latest entrepreneurial venture is d'Alessandro Wines, a technologically advanced winery that merges the family history and connection to the land with modern ecological "green" practices while making wines from indigenous Sicilian grapes.
Giacomo lives in Rome where the corporate office of his travel business is located, traveling frequently to the family home in Agrigento to oversee the development and expansion of the winery.  When not in Sicily or Rome, Giacomo can be found traveling the world promoting d'Alessandro Wines. 
What prompted you to pursue wine making as a career?
The winery and this new project are rising on my grandfather's land where my family used to go for summer holidays from Palermo. The mission is to honor the territory and the wonderful city of Agrigento around the world, a thousand years of different culture and traditions (like Greeks, Romans, Moorish). The best way to do so is through a bottle of wine. We are the only winery in Agrigento, and our land faces the sea. From the vineyards you can see the wonderful 'Temple Valley' (a UNESCO heritage since 1999) where we have the best conserved Greek temples in the world.
Describe your wine making philosophy:
Following our mission, we work exclusively with indigenous grapes and use very little barrique. In fact, we only use it in one wine, the Nero d'Avola Syrah. We don't want the 'woody aromas and tastes' to cover the fruit, what the land gives you such as mineral notes, flowery notes and salty notes from the sea breeze.
What are you most proud of so far in your wine making experience?
We are very proud of our land, of the good words people spend on it and on the wines. Obviously, we are proud of the good job we have done in just two and a half years since opening many important and difficult markets like the USA, Brazil, China, Switzerland and so on, and the good results in Italy are giving  us big strength to go on in the best way.
Tell us about the people who influenced or mentored you as a winemaker?
My father's will to develop this wonderful area that is not as appreciated as it should be.  Agrigento area has wonderful landscapes and attraction such as 'Scala dei Turchi' or 'Vulcanelli of Aragona' both famous since ancient times.
Tell us about your wines:
As already told, we try not to 'build' the wines, we work on the wines just to improve what the land gives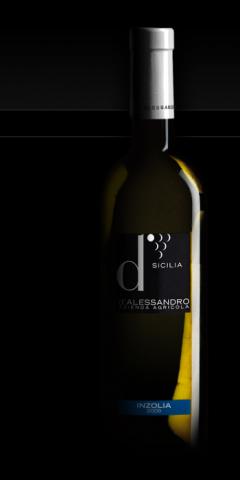 you.  We are lucky because we have a unique territory, with incredible sun, wonderful soil and this helps us a lot.  Nero d'Avola Syrah especially is our first red wine produced, and already  at the first vintage has won several prizes and awards.  For the whites I suggest Inzolia, very unusual Sicilian white wine with its 12% alcohol volume is very fresh, easy to drink (and not the usual heavy Sicilian) and incredibly reflects the land with its mineral notes, the sea with its incredible salty notes and the local field fragrances with its yellow flower notes.
What is next for d'Alessandro Wines?
We will not produce million of bottles with mediocre quality, we want to produce the correct number of bottles so to keep a good balance between quality and prices. Not more than 400.000 bottles.  Our wines are studied to be a 'daily wine' with accessible prices for everyone, but that you can find only in selected places, where people don't just sell a bottle, but can transmit what there is behind it.  For the future, we are working in cooperation with the university of Palermo on an ancient indigenous red grape, not used and cultivated any more, for a 'grand cru' and on a sweet wine, maybe with  Nero d'Avola grapes that would be an original idea… who knows!
When it comes to wine making, what's one thing you know now that you wish you had known before you started?
The wine world is incredible because you always learn something new, if you think you know everything about this world and about the market it is better to change your work.  Learning from the old mistakes permit you to improve day by day and give the customers better service.
A hot topic in wine circles is the "Parkerization" of wines. Some people claim his 100 point scoring system has been an enabling factor for consumers as they navigate the endless array of brands from which they can choose. Others claim his influence has negatively impacted wine quality as producers are increasingly crafting their wines to earn a high score from Parker at the expense of making the best wine they can with the fruit and resources they have available. Given this, what are your thoughts on Parker and the 100 point scoring system?
Traveling a lot world wide we have noticed that Parker is one of the most important 'wine reviewers', and his scores can 'move' the markets. However, we think that without a good wine, a good price and a good communication/marketing program, it can be difficult anyway.  All reviews and good points are welcome in our winery but they must not distract us from the daily 'hard' work, indeed it must stimulate me and my team to always do more to improve.
How have the points systems like Parker's impacted you as a winemaker/producer?
We just entered the US market in the month of Oct. 2010 with excellent results even without any reviews.  Helped obviously by the incredible good work done by our importer Dominic Nocerino and the team of 'Vinifera Imports'.  So we are very young, but I hope we can soon get good reviews.
Rising wine alcohol levels are a hot topic these days in wine circles.  What are your thoughts on the subject?
We try to give the customers wines that are easy to drink, with a good balance between body and alcohol.  In the last year we have worked to reduce the alcohol volume in the white wines, very difficult for our sunny territory, but always in a 'natural' way, by making an early harvest.  The nice part  of this world is the incredible different varieties of grapes that give us products for all needs, I think that alcohol is not a priority in the selection of wine, you can easily love a 11,5% Prosecco for appetizers and enjoy a 16% Amarone with important dishes. It all depends on the ability of the winemaker… and we are very, very happy of ours: Tonino Guzzo.
Lastly, where can your wines be purchased?
As already said, we are imported by Vinifera Imports and are available nationwide.