Sonoma County Wineries - Images of America by Thomas Maxwell-Long
by Brad Prescott
Beginning in 1857 with Buena Vista Winery, Sonoma became one of the preeminent winemaking regions in the world. Chronicled here in 128 pages of over 200 vintage images is Sonoma's wine producing history, covering its many wineries, vineyards, towns, and townsfolk that grew up alongside the development of this fantastic enterprise.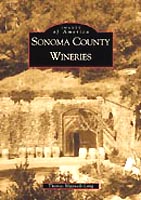 About the Author
Using photographs from the Sonoma County Library and Sonoma County Winery Archives, author Thomas Maxwell-Long offers readers a glimpse into the history of America's West Coast wine industry heritage.
For more than 25 years, The California Wine Club founders Bruce and Pam Boring have explored all corners of California's wine country to find award-winning, handcrafted wine to share with the world. Each month, the club features a different small family winery and hand selects two of their best wines for members.
Tags: