California wine has a long history (by U.S. standards), though a short one compared to the great Italian and French wine traditions. Since prohibition was repealed in the 1930's, California wine has grown bigger and better. It not only produces some of the finest wine in the world, it is also one of the leading producers of wine in terms of volume. It has been widely quoted that if California were an independent nation, it would be the fourth largest wine producing nation in terms of volume.
California is a big place with many wine regions. The five books listed below are but a small sample of the books available about California wine. Each however offers a different glimpse into California wine and is worth checking out for anyone who considers themselves "into" wine.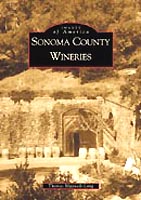 , by Thomas Maxwell-Long, is a detailed visual perspective of Sonoma County's wine industry heritage.

Wine Spectator's California Wine, by James Laube, is Wine Spectator's companion to California wine. Published in 1999, it contains detailed descriptions and ratings for over 5,000 California wines with tasting notes and in-depth profiles on more than 700 California wineries,

A Very Good Year: The Journey of a California Wine from Vine to Table, by Mike Weiss. Published in 2005, this "behind the scenes look at the making of a premium California wine" takes the reader all the way through the wine making process; from the picking of the grapes by migrant farm workers to the first tasting at the Four Seasons.

A Companion to California Wine: Encyclopedia of Wine and Winemaking from the Mission Period to the Present, by Charles Sullivan, traces the Golden State's wine industry from its mission period and Gold Rush origins down to last year's planting and vintage statistics. All aspects of wine are included, and wine production from vine propagation to bottling is described in straightforward language.
In the shadow of Sonoma County, Russian River Valley produces award-winning chardonnay and pinot noir wines in additon to other wine varietals, and is home to many small and several large commercial wineries. Steve Heimoff takes a comprehensive look at what is an often over looked wine region in his 2005 book, A Wine Journey Along the Russian River.